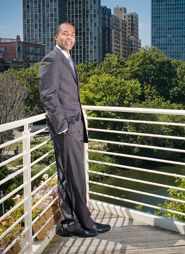 Senior Analyst, New Trier Partners
Northbrook
Number of years in real estate: 2
Describe your look: Athletic GQ
What do you consider a "fashion don't"? Short sleeve dress shirts with ties and navy suits with black shoes and a black belt.
What is your favorite piece of clothing and why? My Brooks Brothers Slim Fit Non-Iron Shirt. No matter what, it is always ready to go.
What do you consider a must-have accessory? A nice, unique watch and sharp cuff links.
What is a fashion crime you have committed in the past? Once in high school, I wore a crewneck sweater over a shirt and tie. I'm still trying to figure out the reason for that.
Where are your favorite places to shop? Brooks Brothers in the Financial District.
What, besides your wardrobe, completes your look? Charisma or swagger
Suit Hugo Boss
Shirt Brooks Brothers
Tie Calvin Klein
Shoes Kenneth Cole
Belt Steve Harvey Edition
Cufflinks Salvatore Ferragamo
Watch Lucien Piccard
SPECIAL THANKS TO The Peggy Notebaert Nature Museum FOR THE LOCATION OF THE PHOTO SHOOT.