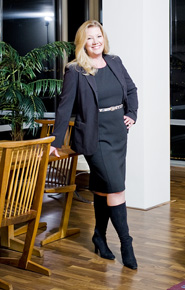 CENTURY 21 – American Sketchbook, Lake Zurich
Number of years in Real Estate: 9
Describe your look: Professional with a casual twist and business-ready seven days a week. I have a great mix and match wardrobe with a lot of solid colors.
What do you consider a "fashion don't"? My kids would tell you my snow boots. They laugh every time I leave the house with them on. Although, they have never shown homes during these Chicagoland winters. Personally, I have seen Realtors show my listings in tennis outfits – yikes!
What is your favorite piece of clothing and why? Without question, a blazer/jacket. You can dress up any outfit with a blazer/jacket, you can dress down any outfit with a blazer/jacket. You can keep it right in the back seat of your car. You will always be ready to look great at any time.
What do you consider a must-have accessory? My cell phone and business cards, I never leave home without them
What fashion crime have you committed in the past? When I am showing homes, no doubt, laced shoes/boots. As a courtesy to the sellers, I always ask that my clients/buyers remove their shoes when we are in sellers' homes. It was not fun having my clients stand around watching me take so long putting my shoes back on. Now, I always wear zipper boots or slip-ons!
Where are your favorite places to shop? Anywhere with a good sale, but my favorite shops are Ann Taylor, Nordstrom, Banana Republic, Chico's, Stein Mart, Macy's, Nine West, Aldo and DSW. A girl's gotta have her shoes!
What, besides your wardrobe, completes your look? Manicured nails, well groomed hair, make-up and a big smile!
Jacket-The Limited
Dress -Ann Taylor
Belt-Stein Mart
Earrings-Swarovski Crystal Earrings from Macy's
Boots -Nine West
Diamond Ring-Chicago's Park West Antique Show
SPECIAL THANKS TO Optima old orchard woods FOR THE LOCATION OF THE PHOTO SHOOT.