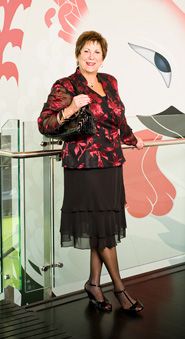 Prudential Rubloff, Northbrook
Number of years in real estate: 25.5
Describe your look: Bold
What do you consider a "fashion don't"? Don't wear something grossly inappropriate for your age or your size.
What is your favorite piece of clothing and why? My favorite piece of clothing is a good classic pair of black pants, because you can wear them anywhere at any time and dress them up or down with different tops.
What do you consider a must-have accessory? For me a must-have accessory is jewelry — real or funky.
What is a fashion crime you have committed in the past? I have been guilty of wearing too many bright colors or patterns together at one time instead of one focal piece.
Where are your favorite places to shop? Chico's, little boutiques, Nordstrom, Macy's, Bloomingdale's. I don't necessarily shop designers, and I don't believe one has to spend a fortune to look good either. I buy what I like, what I think looks good and appropriate on me, and what makes me feel good when I am wearing it. I like things that are a little different, but not so way out that people wonder where I came from.
What, besides your wardrobe, completes your look? What best completes my wardrobe is a big bright sincere smile. I believe you should always look like you are having fun and you enjoy being with the present company.
Jacket-ALEX Petite
Skirt-ALEX Petite
Purse-Vecceli Italy
Shoes-Fioni
SPECIAL THANKS TO The wit hotel FOR THE LOCATION OF THE PHOTO SHOOT.