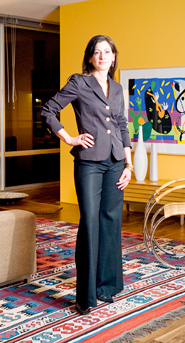 Koenig & Strey, Gold Coast
Number of years in real estate: This is my 26th year as a real estate agent in Chicago.
Describe your look: Classic and comfortable
What do you consider a "fashion don't"? Wearing something that does not reflect who you are
What is your favorite piece of clothing and why? I have two favorite go-to pieces of clothing. I live in my black lululemon yoga pants! They are comfortable and can go from walking my three dogs to showing a house or going out to dinner (when worn with a great coat). I also love my tailored white shirts, of the same style, by Anne Fontaine. They work for black tie and with jeans.
What do you consider a must-have accessory? A classic handbag
What is a fashion crime you have committed in the past? Wearing something that looked great on someone else but awful on me
Where are your favorite places to shop? Krista K, Target, Anne Fontaine
What, besides your wardrobe, completes your look? Lip balm and a big smile
Jacket-Max Mara
Pants-Theory
Shoes-Miu Miu
Earrings-My friend Shaunn – they were a gift for my 50th birthday and I love them.
Necklace-Grandmother's pearls
Bracelets Claire's
SPECIAL THANKS TO Optima old orchard woods FOR THE LOCATION OF THE PHOTO SHOOT.