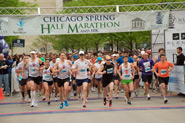 A lakefront race sponsored by Magellan Development Group has helped raise $250,000 to support the fight against brain cancer.
The funds were donated to this year's designated charity partner, Northwestern Brain Tumor Institute and its various programs, according to Robin Loewenberg Berger, Magellan's chief marketing officer. "Magellan chose to support NBTI when my husband was diagnosed at the hospital," says Berger. "We want to help increase awareness of brain cancer and help raise funds to support life-saving research and clinical trials that can lead to better treatment and ultimately a cure." Berger, who is an NBTI Advisory Council member and co-chair of the event, also participated in her first 10K race in honor of her husband. The race provided runners with the opportunity to dedicate their race experience to the fight against brain cancer. May was also National Brain Tumor Awareness Month.
"I started running for the first time in my life in November. I became committed to the cause and trained every week. I am so proud that I finished the 10K race and we were able to raise so much for research," she says.
According to Magellan President David Carlins, race co-chairman and a seasoned runner, some 3,000 runners and as many spectators participated in Magellan's second annual Spring Marathon and 10K race.
The race was held in partnership with CAPRI Events, premier race and events managers. Carlins also participated in the half-marathon as guide to a blind Iraq veteran.
Hospital staff and support group members also participated in the race, including Institute Co-Director Jeffrey Raizer, MD. Bill Zwecker, FOX News entertainment reporter, served as master of ceremonies on race day for pre- and post-race VIP events.
NBTI is a collaboration between the Robert H. Lurie Comprehensive Cancer Center of Northwestern University, Northwestern University Feinberg School of Medicine and Northwestern Memorial Hospital. The Institute merges clinical research with medical and surgical treatment for brain and spinal tumor patients.