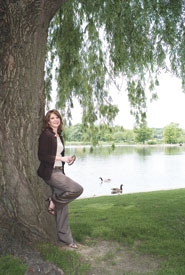 Crawford Group Sothebys International Realty
Hinsdale
Number of years in real estate:
18 years
Describe your look:
Naturally sophisticated, classical with a touch of sass
What do you consider a "fashion don't"?
Do not wear anything that you don't feel makes you look your unique best. It's important to know who you are and what style works best for you.
What is your favorite piece of clothing and why?
A black suit, because it can work for any occasion, a light-weight white button-down shirt and a camisole to match whatever I'm wearing.
What do you consider a must-have accessory?
Designer sunglasses, a fashionable tote to carry my laptop and phone, great slip-on shoes and a watch
What is a fashion crime you have committed in the past?
Getting too used to throwing my hair up in a clip
Where are your favorite places to shop?
Nordstrom, Mark Shale and Banana Republic
What, besides your wardrobe, completes your look?
Sparkly earrings and a bright smile lined with a natural lip color
Sweater jacket-Damask
Top-Etcetera
Slacks-Lindsay
Shoes-Anne Klein
Sunglasses-Brighton
Necklace-ViV & Ingrid
Earrings-Swarovski