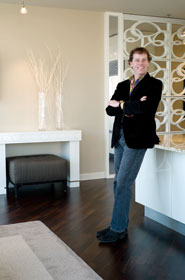 Number of years in real estate:
25
Describe your look:
Eclectic
What do you consider a "fashion don't"?
Clothes that don't fit well
What do you consider a must-have accessory?
Great shoes are really important, but if we're talking accessories, a stylish watch is a must-have. It doesn't have to be expensive, but it has to look tasteful.
What is your favorite piece of clothing and why?
My Robert Graham velvet blazer, because of the construction, fit and unusual details. The blazer has covered buttons, an embroidered tone-on-tone dragon, an embroidered logo, ribbons inset into the cuffs and an unusual lining. The quality is impeccable.
What is a fashion crime you committed in the past?
I bought a pair of pumpkin colored corduroy pants because they were on sale. They looked more like a light rust color in the store, and when I wore them they positively glowed. I got rid of them immediately. A sale isn't a bargain if it's ugly.
Where are your favorite places to shop?
My favorite places to shop are vintage clothing stores and the sales rack at most large department stores or outlet malls. That's where you find the unusual or one-of-a-kind pieces.
What things, beside wardrobe, complete your look?
I think the best completion of a look is not only how you carry yourself, but how you interact with others. Being in sales, I really try to express my individuality through my clothes because it makes me memorable. The most important thing, though, is my willingness to really listen to my clients. People respond so well to a genuinely kind smile or the fact that I really care about them. That's what gives me a lasting impression.
Blazer: Robert Graham
Shirt: Ralph Lauren
Jeans: Calvin Klein
Belt: Guess
Boots: Kenneth Cole
Watch: Ice Link
Rings : Tiffany and a vintage ring
A special thanks to X/O Condominiums for providing us with their sales center for the photo shoot.