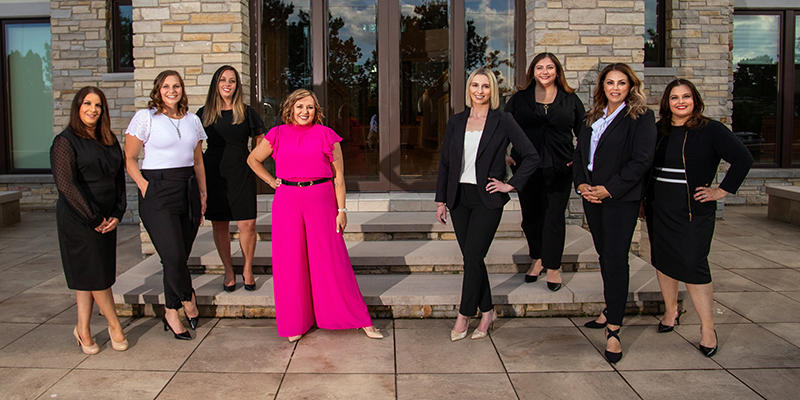 Jamie Hering, Team Leader
Allison Kasperski, Realtor
Rosemary Bridges, Realtor
Jackie Kissinger, Realtor
Sheena Franklin, Realtor
Becky Hicks, Realtor
Emily Jones, Realtor
Jackie Pirie, Realtor
After nearly a decade in the Chicago real estate industry, Jamie Hering has built a team she loves that's able to cater to their clients by offering the highest level of real estate service.
Hering has been described by her clients as the "House Hunting Fairy Godmother" and as a ball of energy who never stops. "I'm also pretty funny, so my clients and I usually spend the day laughing together," she shares. She sold over $200 million in her first seven years in real estate, and now leads an all-women team specializing in concierge services and complimentary staging.
Hering and her team made the move to Coldwell Banker Realty in the past year, selling over 250 homes in 2021 alone. "Running a top-performing real estate team doesn't allow for unplugged weekends or many days off, but I'm also not doing it alone," she says. "Even the busiest realtor can only spin so many plates at a time." Hering's team consists of an Operations Director, two staging coordinators, a transaction coordinator, plus six agents, and she says she couldn't imagine doing any of this without each of them.
This professional, hard-working, and fun group of ladies take their jobs seriously, but want their clients to enjoy what can be a stressful process. They supplement their hard work with innovative social media marketing, and have even appeared on the Coldwell Banker Realty Sunday morning show, At Home in Chicagoland. They also like to spend time with their clients at client events, from free ice cream socials to girls nights out to their annual Thanksgiving pie giveaway.
After a successful year, Hering says she's filled with joy to know that her team has been by her side for the whole crazy ride. "Real estate is an amazing career," she says. "The joy it brings me, I want to pass on to others."