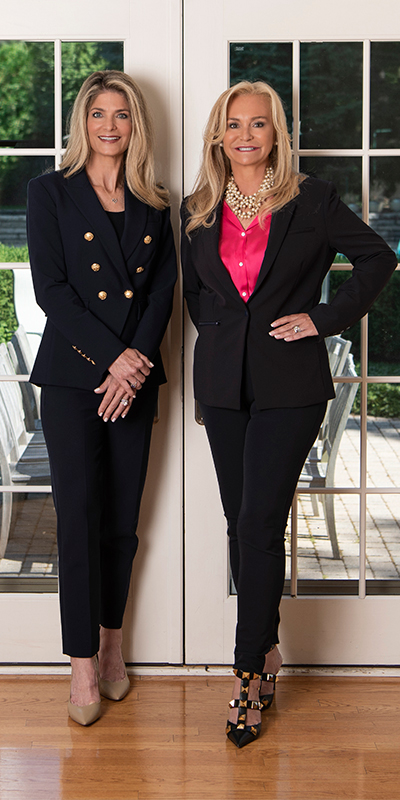 Kathryn Bader Mangel and Kelly O'Connell Mangel are results-driven real estate brokers committed to the highest level of customer service and delivering sales results to their clients. Kathryn and Kelly work as consultants, advisors, and brokers for Team Mangel with @properties Christie's International Real Estate. Combining a 24/7 customer service approach with their exceptional real estate network, they solve problems using a positive, solutions-oriented methodology.
With over 30 years of combined real estate experience, Team Mangel offers hands-on personal guidance from start to finish. "We focus on finding our buyers, sellers and renters the perfect real estate solution for their families. We are smart businesswomen, who work hard and employ the best real estate resources for our clients," they say. "We love where we work and what we do!"
Team Mangel works with a wide range of clients that includes single-family homes, condominiums, town houses and luxury rental properties. They were raised and attended school in Wilmette and now reside on the North Shore with their families. Kathryn and Kelly rely on their personal and professional experience in the area to help guide their clients with deals in a variety of North Shore communities, including Evanston, Glencoe, Kenilworth, Northfield, Winnetka, and Wilmette. Their clients agree that "no one knows the North Shore like Team Mangel."
Prior to real estate, Kathryn worked at IBM, and Kelly worked for Aon, which allowed them to develop their professional skills in customer service, marketing and innovative thinking. "Our backgrounds developed our professional attitudes and shaped who we are today," they add.
Kathryn and Kelly have won numerous awards that include Rookie of the Year, Chicago magazine's Outstanding Service award, Crain's Chicago Business' Notable Residential Real Estate Brokers, top team for Chicago Agent magazine and @properties' Road to Rolex honor. As active members of the North Shore-Barrington Association of Realtors, Team Mangel consistently places in the top 2% of real estate agents in the nation and regularly ranks among the top agents in the @properties Winnetka office and within @properties.