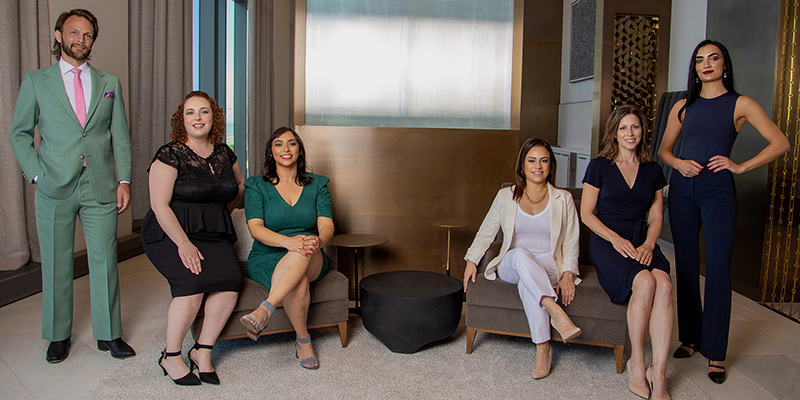 Camille Canales, Principal & Broker
Laura Lunsford, Operations Manager & Broker
Joe Tighe, Broker
Caroline Kuby, Broker
Amanda Palo, Broker
Lola Schalekamp, Broker
CCG Chicago is a group of real estate professionals who joined forces in 2021 to better serve clients in an unprecedented real estate market. Principal and licensed real estate broker Camille Canales and her team — operations manager Laura Lunsford; brokers Joe Tighe, Caroline Kuby, Amanda Palo and Lola Schalekamp; and home advisor Tony Ercoli — guide clients through the buying and selling processes with expertise, creativity and empathy. CCG Chicago works through the red tape to never lose sight of what the work is really about: helping people realize their real estate dreams.
In the process of a full renovation and finding a new home for her mother-in-law during the pandemic, Canales found herself, like many, reevaluating her day-to-day life and priorities. Home had become more important than ever, not only to her family, but also to her friends and clients. To serve more people in need of real estate guidance, Canales, who has been working in real estate since 2012, teamed up with other real estate professionals with specialized creative, educational and customer-service experience. A stellar team of professionals emerged: CCG Chicago.
In the first year working together, the team broke production records and had more referral opportunities than ever. The team motto is "Teamwork makes the dream work," and CCG Chicago agents are able to spend quality time with every client. "Valuing family, friends and community is not just about real estate; it is about supporting dreams and relationships," Canales says. "Real estate decisions often form the nexus of a financial portfolio and are key to building personal wealth, but they're also highly personal decisions."
When not helping people fulfill their real estate dreams, the group's agents may be busy parenting or out with their dogs; on a run or hiking in nature; volunteering at local parks or participating on the boards of local organizations such as the Friends of Kilbourn Park Organic Greenhouse or The Trust for Public Land.
Not pictured: Tony Ercoli, Home Advisor