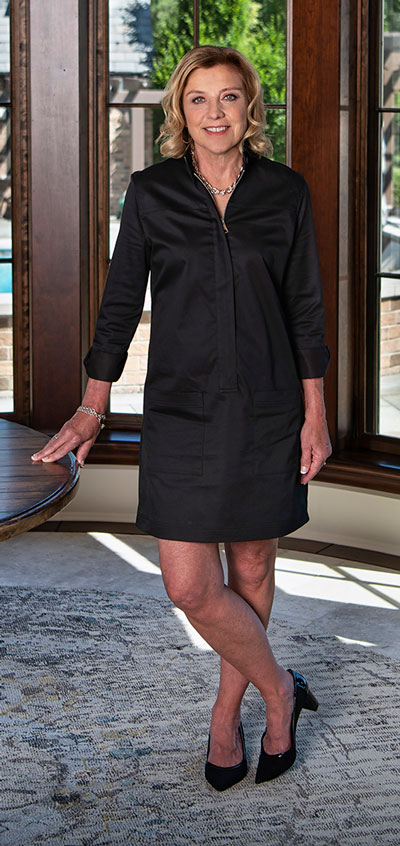 A negative experience Teri Denis had as a homebuyer inspired her to switch careers and show clients how it's done.
A broker associate with Jameson Sotheby's International Realty, Denis was relocating from the Midwest to the East Coast with her family when she was assigned a Realtor who was uneducated about the market and pushed homes that didn't fit their lifestyle. "She put her interests in front of our wants and needs," recalls Denis. "I have never forgotten that house-hunting experience. It's why I became a broker in 2003."
Denis previously worked in sales for 10 years, with Illinois as her territory, learning all the cities in the Chicago metropolitan area and downstate Illinois. Once her family relocated to Connecticut, she attended the New York School of Interior Design in Manhattan and did projects for clients. For the past 18 years, she has applied those experiences to real estate. "I can walk into a house with a buyer and envision how the home can be modified or how to help a seller stage a home," she says.
Denis meets with clients to set expectations, explain the process and establish herself as their guide throughout everything. "I specifically work with a select group of clients so that I can dedicate as much time as possible to the successful sale of their home or purchase of the right property," Denis notes. She assists first-time homebuyers, second-home seekers, upsizers, downsizers and everyone in between throughout Chicagoland.
In 2021, she earned Jameson Sotheby's Huzenis Award from her peers for outstanding ethics, integrity and professionalism. "I'm so fortunate to be a part of my clients' lives," says Denis, who has witnessed marriage proposals and attended bridal showers, weddings and baby showers for clients. "For me, a client relationship doesn't end at the closing table."