Does Nick Libert consider open houses auditions? Heck, you might as well ask him if he thrives on closing a deal.
"Open houses are definitely auditions," said Libert, broker, CEO and owner of EXIT Strategy Realty. "You're auditioning to the buyers that come into the home. Some aren't represented by an agent or might be underrepresented. You have the opportunity to present information on the neighborhood and yourself." Agents also are auditioning for the neighbors and all the residents of the surrounding neighborhood, he noted.
Nevertheless, because they don't see results, many agents forgo taking the time to truly stage an event, said Libert. They don't see a payoff, he pointed out, because "they just throw it on the MLS and show up."
Keisha Williams of Fulton Grace Realty feels the same way about the opportunities posed by open houses. "I try to be strategic in planning my open houses. I prepare the same way as I would an interview," she said. "Potential buyers and sellers are observing your knowledge, professionalism, attention to detail and likability, so I treat them as such."
COVID-19 challenges
Obviously, in light of the current coronavirus pandemic, there are only so many strategies agents can deploy. Kevin Hinton, co-founder of the Phair-Hinton Group at Keller Williams Chicago–Lincoln Park, noted that his team was still initially conducting open houses during the first days of the coronavirus crisis with all the necessary precautions, but that has all changed. "We're now establishing all the virtual options, including showings, online open houses and virtual listing presentations," he said. Hinton said one silver lining is Chicagoland real estate will likely be done in a much more efficient manner when this is all over. "It happens after any industry disruption."
---
Also in this issue
The power of two: Conducting open houses as a team

Mastering the finer points of open houses
Open house: A survey for real estate agents and brokers
---
Libert said his team is also identifying ways to virtually market properties and generate excitement among buyers. That way, he explained, "when they do feel safe and it's allowed, they'll visit our properties."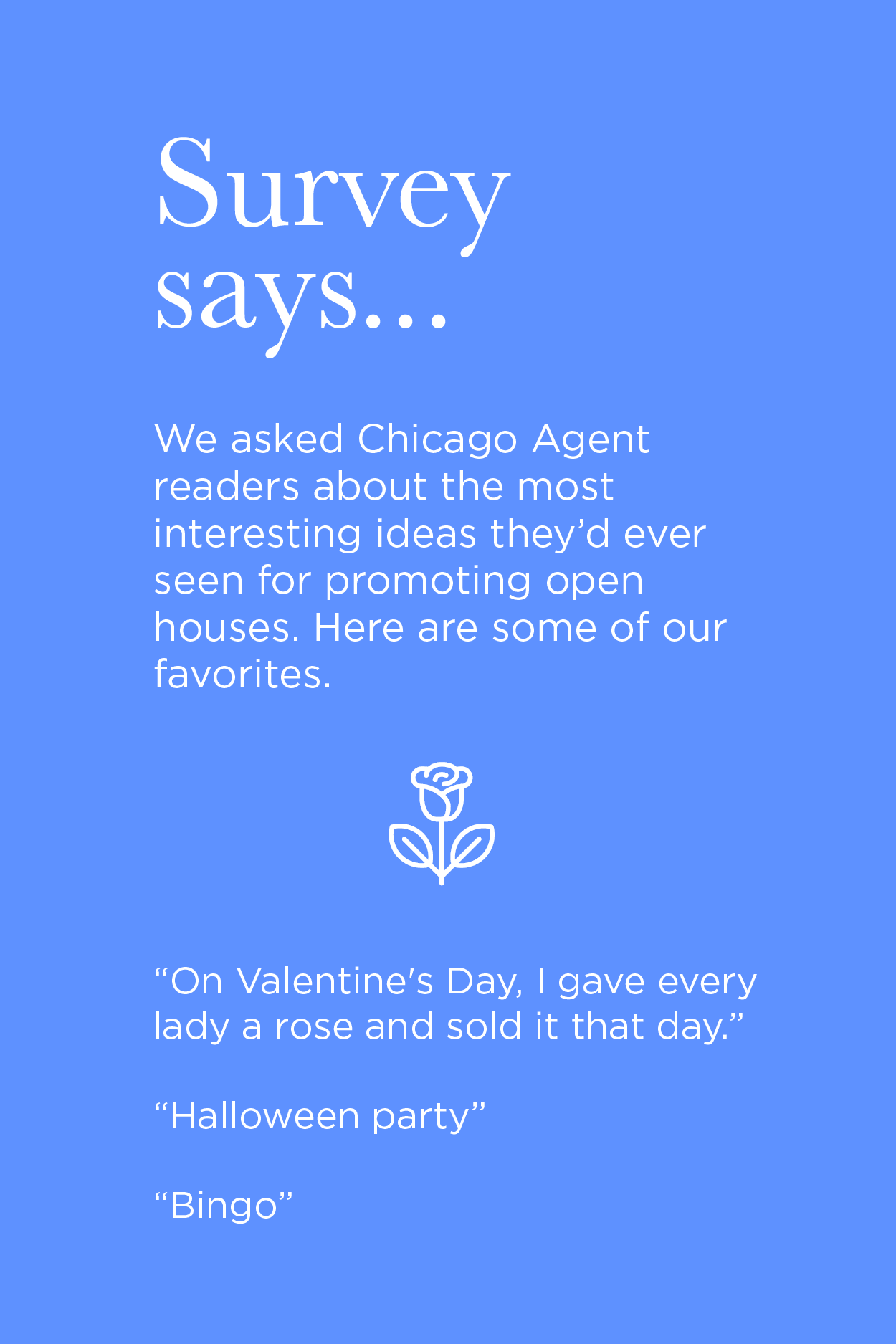 As a manager, Libert said he hopes agents will take this temporary pause as a moment to improve their open house skills. This period is "an opportunity to hone our marketing skills, familiarize ourselves with technologies. Maybe we were just too busy for it before," he said. "When we're out of this crisis, you're going to see much more well-rounded, better marketing presentations."
"Unfortunately, the coronavirus has a major impact on open houses in the state of Illinois, especially since we were placed on a statewide 'shelter in place,'" order, noted Williams.
"Most agents I know — including myself — are postponing all open houses and taking all the necessary precautions with showings." Utilizing tools such as Facebook Live, WhatsApp and Zoom, she noted that her firm can market its virtual open houses and broadcast them to anyone interested at a specific time and date.
Taking on the role of teacher
Hinton said he thinks potential clients are much more interested in learning about the homebuying process and identifying a true advocate. "Our value proposition should be considerably less about 'selling' the property and considerably more about education," he said. "I like to say, 'Education travels,' implying that if you haven't taught them anything, they'll forget you immediately when they meet the next professional agent at a different open house."
Hinton, who has built a robust book of business from hosting open houses and has passed the skill on to others through a training class for his office that was voted the best of 2019, noted that most buyers don't know how mortgages work, what an appraisal contingency is or what happens during an inspection.
"During the bulk of an open house, I spend very little time talking about the property and more about all those other topics," Hinton said.
Seeing the bigger picture
It's easy to get dragged down in data that refutes the positives of holding an open house. In a 2018 survey, research firm Statista found 53% of homebuyers attended an open house when searching for a home in the United States. Forty-seven percent said that they didn't attend any open houses during their house hunt. Meanwhile, 63% of real estate agents polled by HomeLight in a recent Top Agent Insights Report indicated they don't always recommend open houses.
But Hinton said looking at open houses in a vacuum makes it easy to miss the larger role they play in a broker's business. "It's important to get into the mindset that open houses — and all the prior activities like door knocking, circle prospecting and social media — are equally about creating listings leads as they are about finding buyers," he said.
To help wring the most out of open houses, Hinton poses probing questions to open house attendees. For example, he asks, "'Did you have this [open house] planned, or were you just walking by?' I want to listen to their first response; I want to see if their agent sent them over."
If 10 people attend an open house, Hinton focuses in on who he's much more likely to convert into a client and devotes considerably less time to others. "If they say their agent sent them over, I don't leave it at that; I ask them who their agent is. I want to see if they can come up with [his or her] name. If they can't, they likely don't actually have an agent, or the agent's done an extremely poor job of staying in front of them. Excluding any buyers' brokers agreements, they're fair game."
There's also the matter of commitment to the process. Hinton often warns agents that if they're going to dabble in hosting open houses, they shouldn't expect results. "Some agents do a couple, take a month off, then do a couple more. You have to do a lot because the conversion rates are low," he said, noting that around 5% of all open house attendees buy or sell a home with his company.

That said, Hinton points out that "if you do the math, your return and hourly rate's quite good. You just need to do enough and have your predetermined follow strategy in place. There's no real secret sauce, other than you should have a value-based plan and know exactly what your steps are until they raise their hand. All you're trying to do is get them to say yes to one of your resources or be willing to have that second face-to-face [meeting]. Once they do, that's when you know you've landed a client."
Of course, rookie slipups are almost part of the game. "It's a huge mistake if an agent just has an MLS sheet at an open house or doesn't have some way to lead capture, like a sign-in sheet. People will walk out without giving you their contact information," Libert said. "I not only want to wow them, I want to get a little contact information and add them to my database and potentially build a relationship."
The soft sell
It may sound counterintuitive to leave headshots at home when you're heading to an audition. But Libert noted that, in order to make an impression on open house attendees, agents should remember the events "aren't about you. I walk into some, and see people with things like their bios. That's nice, but consumers are looking for information on the neighborhood, nearby schools, restaurants and transportation."
Instead, Libert often opens the Homesnap app on his iPad in order to present attendees with MLS data, property information and home search tools.
Hinton said it's important for agents to build rapport and demonstrate their value before asking attendees to sign in or offer up contact information. "People will gladly provide real information once they see your value and the benefit to them. It's the same reason our instinct is to decline help initially from a retail salesperson, but circle back to them when we realize they aren't being overly 'salesy' and we actually need their help," he said.
Opening up for others
Many agents turn to others to host open houses for them. While this strategy can benefit both parties — new agents get exposure to more potential clients and more experienced brokers can free up their weekends for other activities — doing this right requires some behind-the-scenes work.
Williams, who makes a portion of her living conducting other people's open houses, always wants to be prepared for the work. She often asks to preview the property if she's hosting for the first time. "Preferably a few days before," she said. "Otherwise, at least one hour prior to the scheduled open house." Typically, she likes to know which open houses she'll be hosting for the upcoming weekend by Wednesday to allow enough time for her to market the open house, as well as schedule showings and other open houses around it."Some listing agents prefer not to host open houses at all, but I personally love to host them."
Williams does have some advice for agents who are looking for someone to cover for them at an open house. "Only allow agents with great reputations and work ethics to cover them," she said. "Remember, the agent hosting the open house is a representation of the listing agent and the seller. That person should be just as knowledgeable of the home as the listing agent."
While some managing brokers and top producers may feel their open house days are behind them, Libert noted that his presence and involvement in these key marketing moments sends an important message: "I've been doing this for 22 years, and I think it says a lot when a top agent still does their own open houses."