Sometimes it takes a crisis to illustrate what's working and what's failing in any given group, and that goes for real estate teams as much as any other, according to Leigh Marcus. "If somebody is not in the right seat on the bus, it will show now," the team leader at @properties' Gold Coast office said about the stress on teams created by the coronavirus pandemic.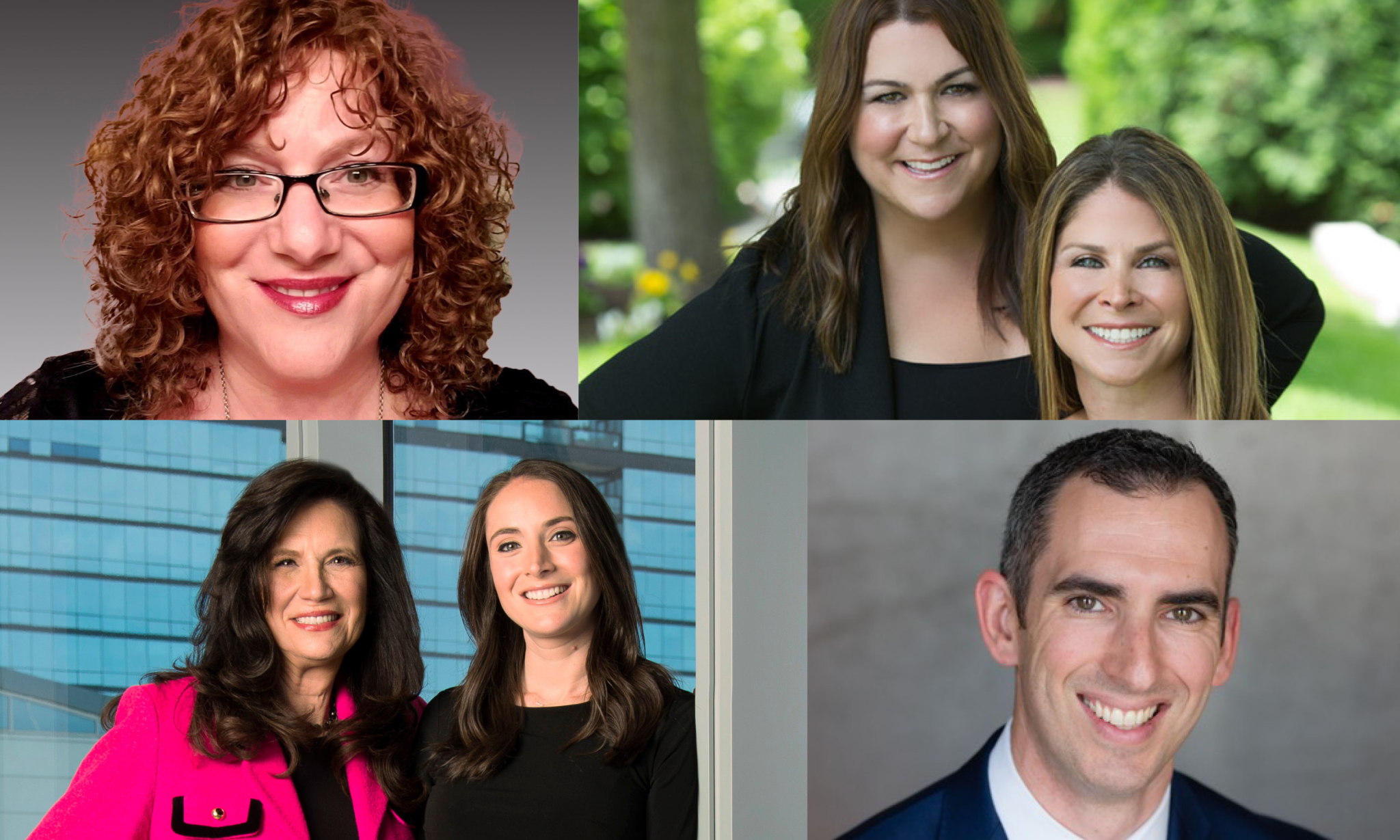 Marcus characterized himself as lucky for having a solid team where everyone is driven to succeed and working in the right role for their skills. He noted that situations like this can reveal cracks in a team's armor, because "it's harder to hide."
Considering the current situation, as well as what's likely to be several months or more of jagged recovery, what are Chicagoland team leaders doing to minimize difficulties and maximize productivity? Here are a few tips and techniques we gathered from readers who manage teams.
Projecting positivity
All of the team leaders we spoke with have moved most of their team communications to applications like FaceTime or Zoom. Some are getting together online to check in once a day. Others are supplementing weekly team meetings with individual check-ins via phone or chat systems.
"Daily talks and weekly team meetings are essential. We all share our little wins, which are big wins at this moment of time," said Missy Jerfita, who leads a team out of Compass' Glenview office. "Our focus is keeping our existing deals together."
Just as important as staying in touch is making sure to promote positive thinking on the team, according to Marcus. Before the pandemic, he and his team would meet every day, so their daily meeting on FaceTime every morning isn't out of the ordinary. But Marcus is sure to set the tone once everyone is logged in. "We start all of our meetings now with a positive note," he said, where team members share something good that's going on in their lives.
Marcus said it's vital for team leaders to model optimism whenever possible, particularly in times of stress. "You have to be the guiding light and guiding force," he said. "If you're down in the dumps or not taking care of yourself … you're not going to be able to lead in this environment."
Managing the office from afar
Most team leaders don't have to deal with the question of whether or not to shut the office down during the current "remain at home" orders instituted by Gov. J.B. Pritzker's current executive order. Not so for Dawn Bremer of Keller Williams North Shore West. Her team actually has its own "mega team office," a 600-square-foot space in downtown McHenry.
While the office is technically open, Bremer is not allowing more than two people to be inside at a time so that they can observe social distancing guidelines in their compact space. Instead, they're mostly connecting with each other via Zoom meetings and group chat applications.
One temporary casualty of the coronavirus shutdown is the team's brand-new interactive storefront window, which would function as a touchscreen for passers-by to use to search current MLS listings and sign up for property alerts. It was scheduled to be installed just days before the state of emergency went into effect. "It is one of the coolest things ever," Bremer said. But "because it is a touch-based system, we just didn't feel like it was appropriate to install" until the stay-at-home order is lifted.
How team leaders are pivoting seems to differ depending on the type of team they lead. Beth Wexler and Joey Gault don't have a storefront to worry about, so they're doubling down on their mentoring activities as the leaders of The Wexler Gault Group of @properties in Highland Park. "We're just checking in, making sure that everyone is using this time wisely in terms of business planning," Gault said, noting that while they want agents to spend some extra time with their families, they're also underlining the idea that every member of the team should be working every day as usual. "Be prepared. Do not stop working."
Changing tactics reflect a changing market
It may be tempting to ignore difficult news, but Dan Kieres, managing broker of Northwest Real Estate Group, has been coaching his agents to consider the fact that showings are down and unemployment is at record highs when pricing new listings. "We always say, 'Don't skate towards the puck, skate to where the puck is headed,'" he said. "With such a small buyer pool, we started pricing our listings near or even slightly below market value. And it's been working."
Still, this doesn't mean that the group is changing their expectations of themselves. "Our goals for 2020 haven't changed. We remain focused on being leaders in our community and experts at our craft," Kieres said.
Others are not making pricing changes just yet. Gault recalled getting an email from another agent who asked, "'In light of COVID, is your client motivated?' And we're like, 'No,'" she said, noting she's expecting prices to remain relatively steady. "People will still need to move."
As the industry comes off of the longest economic expansion in history, it's important for leaders to remind agents — especially newer ones who weren't around during the last downturn — that the market doesn't determine success. "The best agents build their business on relationships," Kieres said. "The market will go up, it will go down, it will go sideways. But people will always need to buy and sell."
Training agents — and clients — differently
Marlene Rubenstein, who leads the Rubenstein Fox Team at Baird & Warner alongside daughter Dena Fox, said their focus has been on education, both for team members and clients. In addition to their usual communications, the team has been hosting at least one training session via Zoom every week. They often include guest speakers, such as marketing experts, mortgage lenders and attorneys, in their training meetings.
"Training our Rubenstein Fox team is of the utmost of importance. We talk individually and collectively multiple times a week," Rubenstein said. "We are in ongoing conversations about how to market our properties and how to stay in touch in an appropriate way."
On the client side, it's all about explaining to buyers and sellers how transactions can happen safely. "Homeowners now participate in getting the house ready," Rubenstein said, whether that's for showings, listing pictures or 3D scans of the property. "Everything is taking a little longer and requires pre-planning, more thorough conversation, engagement, patience and protocol that all include appropriate social distancing." For more on this topic, see our story about client messaging during the pandemic.
Bremer has a similar message for her associates: "I keep telling my team: Educate your clients," she said. "Get them to refocus on the facts … We don't want people to start making decisions based on fear."
Rubenstein noted that, as much as the pandemic has represented massive change for the industry, much of what they're doing is simply doubling down on their long-running business model as a team. "The cornerstone of our message is and has always been relationships. The key to any good relationship is staying in touch, communicating, staying abreast [of] changes in the marketplace, trends, and adapting to the changing environment. Never have any of those messages been more important than now," she said. "This is our new normal."
Expansion plans?
While it's still too early to predict what the long-term impact of the coronavirus pandemic will be, it's possible that teams will see even greater prominence due to the current stressors on the market. "Single agents will maybe join teams," Bremer said. "People who thought they didn't want to be part of a team may see how well they're surviving."
In fact, if the next six to nine months go as she's expecting them to, Bremer said she will probably be expanding her team. Thanks to her short sales certification, she expects more distressed homeowners to reach out seeking her expertise in the coming months.
"We're going to see a huge rise in the short sale… and it's sad because nobody wants to have their business increase based on other people's tragedies," Bremer said. On the brighter side, she also predicted some families will require the services of real estate professionals due to a potential baby boom caused by the fact that so many Chicagoans are stuck inside at the moment. "This is going to drastically affect so many people."
Wexler said their group isn't planning on expansion anytime soon, but she does think the pandemic will result in a change in buying habits among consumers. "There's going to be a big surge of people looking in the suburbs and the North Shore," she said, "just to have more space."
At the same time, many team leaders are expecting the current crisis to lead to fewer part-time agents. "There's just so much opportunity right now, but at the same time people are going through a lot," Marcus said. "If you go into growth mode, you're going to have so much less competition than you would have before."