BHHS Chicago Leads Virus Response by Thinking Differently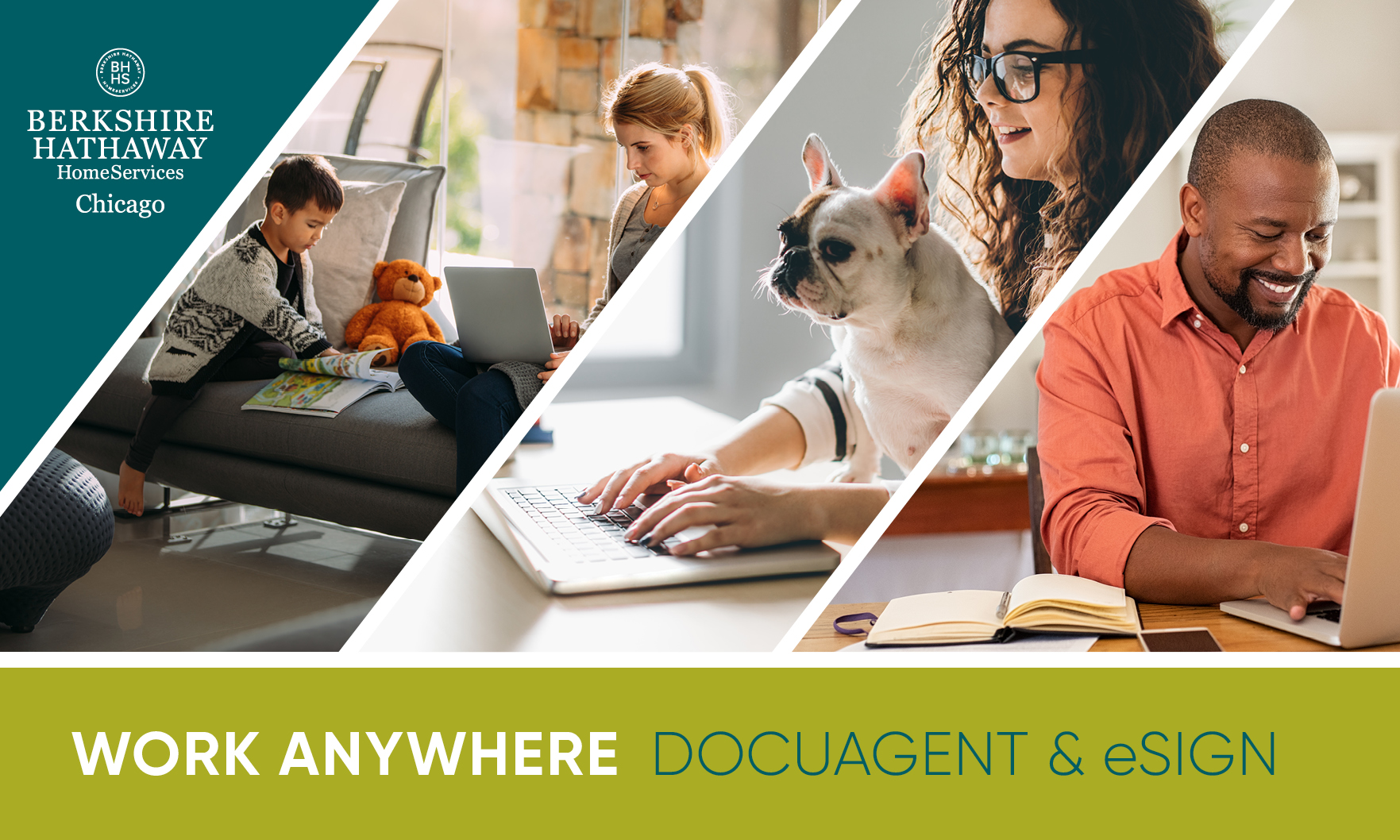 As Chicago grappled with the reality that hand sanitizer and extra cleaning weren't going to be enough to slow the spread of COVID-19, real estate brokerages faced hard decisions in what had been a very busy Spring market.
The company's leaders knew it was time to think differently.
Along with schools and businesses taking a pause, Berkshire Hathaway HomeServices Chicago leaders mobilized quickly and decisively to virtualize their offices. Being "open for business" required being prepared and proactive. Over the course of two days, the staff transitioned to being fully ready to support agents and clients outside of the offices without missing a beat.
"2020 had a very busy start. Buyer demand was high and BHHS Chicago business was up about 15-20% in the first two months of the year," said COO Diane Glass. "There is a lot of business already in the pipeline, and we had had a duty to our clients to help them proceed in a way that was safe for everyone. We have to be good citizens of our communities."
Technology for Kitchen Tables and Coffee Shops
"Our investments in mobile, digital and paperless technology make it easy for agents to work on their phones and tablets," said Diane Glass. "Everything we do has to work at kitchen tables and coffee shops, because that is what our buyers and sellers want. And that carries over to the situation we are facing now."
Our company culture is about personalized agent support and high quality education and training. "Our IT email and phone support went into high gear," said Glass. "And our marketing experts are helping agents go 100% digital with our video, social media and online collateral."
Glass quickly brought a new video education series online, providing a refresher on the tools agents needed for those clients who still need to buy, rent and sell. And the company's Elevate U agent development and training is shifting to online learning.
Work Anywhere & Communicate Often
Glass and the company leadership have committed to being a source of calm, responsible guidance, and regular communication is the cornerstone of that."Getting information to agents and staying connected is essential right now," said Mark Pasquesi, President of Brokerage. The firm quickly developed a plan for pausing listings, anticipating the needs of sellers who didn't want showings.
"Managing brokers are posting daily videos in the company's InTouch agent app. And as individual communities enact new guidance and rules, this is a lifeline for agents," Pasquesi continued. Managers are planning virtual sales meetings.
Lending & Title Are in Sync
"Fort Dearborn Title and Prosperity Home Mortgage have been with us at every step, developing creative solutions to keep deals going," said Joe Stacy, Senior VP and General Sales Manager. "Our clients and agents are their highest priority. One-stop shopping has become more than a convenience for consumers, it's become a necessity. At times like this, you know that you are truly working with a partner and not just a vendor."
Fort Dearborn Title established closing hubs in spaces that would allow for recommended social distancing. Loan officers seamlessly moved to home offices while processing a record-breaking volume of mortgage and refinance applications.
Prosperity Home Mortgage is quickly putting new procedures in place that eliminate roadblocks to buyer financing. Exterior and virtual appraisals, gap title insurance coverage, and hybrid closings where the majority of documents are eSigned before the closing, are being considered to help purchasers close on homes during social distancing. And everyone has stepped up communications to keep agents in the know.
As a result, all closings are moving forward.
Leadership For Today & Tomorrow
Backed by the strength and stability of Berkshire Hathaway, and Home Services of America, the number one real estate company in the nation, BHHS Chicago leaders are confident that they can help agents and clients navigate this market. And they are comfortable being first in making smart decisions for the long-term health and well-being of the communities as well as the livelihoods for their brokers.