Opportunities for Illinois homebuyers have increased as home sales trended lower in June and median prices stayed relatively flat, according to data from Illinois Realtors. Illinois real estate agents sold 16,579 homes in June, an 11.2 percent decrease from 18,673 in June 2018. The statewide median price was $225,000 in June, a 0.2 percent increase from June 2018 when the median price was $224,500.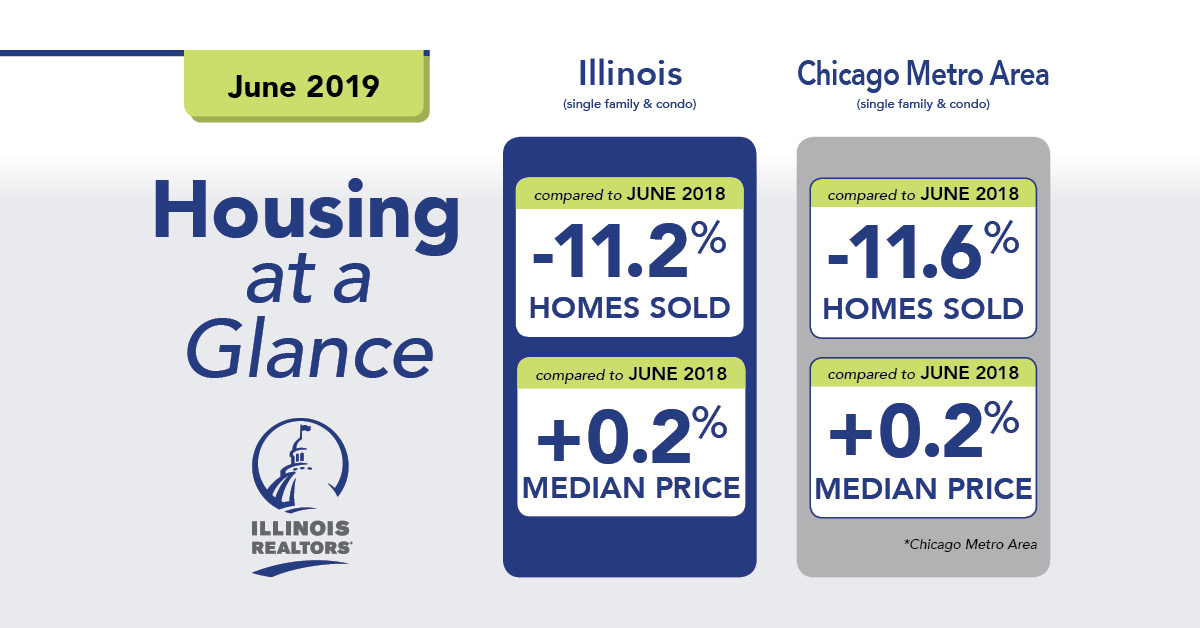 One factor that doesn't favor buyers is the fact that inventory remained low. In June it took an average of 45 days to sell a home, the same as the previous year. Available inventory included 58,376 homes for sale, a 4.1 percent decrease compared to 60,898 homes in June 2018.
"The market choppiness that we have seen throughout the year continued in June, with home sales once again lagging previous-year numbers and sellers struggling to provide the number of homes consumers want," said Ed Neaves, president-elect of Illinois Realtors and managing broker of Berkshire Hathaway HomeServices Snyder Real Estate in Bloomington. "The good news for consumers is that median prices are not appreciating nearly as fast as they have in years past, so for the truly dedicated house-hunter there is opportunity."
In the nine-county Chicago metro area, Illinois real estate agents sold 12,002 in June, 11.6 percent below June 2018 sales of 13, 573 homes. Chicagoland median prices clocked in at $263,000 in June, an increase of 0.2 percent from $262,500 in June 2018.
"Housing affordability is being discussed once again as a contributor to sales declines that are once again lower than those recorded last year for the same month," said Geoffrey J.D. Hewings, director of the Regional Economics Applications Laboratory at the University of Illinois. "Price increases in Chicago and Illinois last month were barely positive and the increase in apartment rentals and declines in consumer sentiment indices suggests that many potential home buyers are sitting on the sidelines, no doubt influenced by concerns about trade conflicts and future growth of the economy."
Even with the less-than-positive numbers across the Chicagoland market, Mainstreet Organization of Realtors Board of Directors President Michael Gobber sees cause for optimism. "Buyers should keep an eye out as new properties pop up on the market," Gobber said. "As inventory rebounds, people interested in buying a home this year should take advantage of the low interest rate and healthy economy."
The city of Chicago saw year-over-year home sales decline 13.3 percent with 2,766 sales in June, compared to 3,191 sales last year. Last month, the city of Chicago's median price for homes was $319,900, a 1.6 percent increase from $314,900 in June 2018.
"We can't escape the topic of tax increases right now, and prospective buyers are paying attention," said Tommy Choi, president of the Chicago Association of Realtors and broker at Keller Williams Chicago-Lincoln Park. "High assessments in the north, and tax increases expected in 2021, has made some leery. Still, the summer proves to be an active time for the Chicago housing market. For buyers, rates remain low and market time and inventory has increased, meaning there is more choice and more time to make key decisions. For sellers, prices remain relatively steady, and pricing appropriately is key."