Number of years in real estate: 3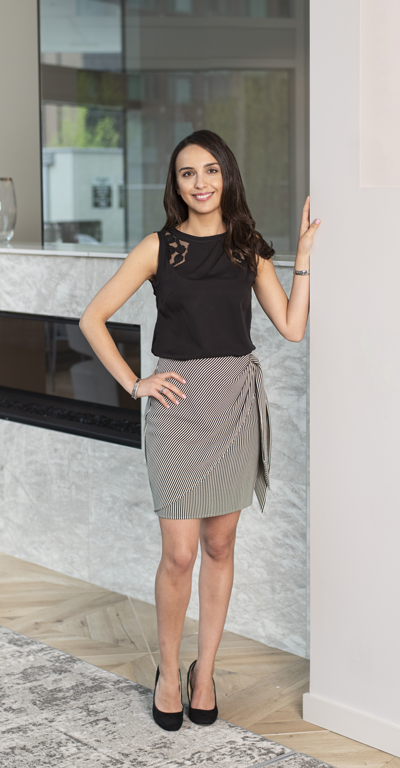 Describe your look: I'm European so my fashion sense is definitely influenced by classic styles.
What do you consider a "fashion don't"? People should be allowed to express themselves in this business, however, this is a job so people should be professional and dressed to work. Some real estate professionals have a tendency to dress a bit too casually.
What is your favorite piece of clothing and why? It's always hard to find jeans in my size, so finding the right fit in jeans is my fashion holy grail.
What do you consider a must-have accessory? A nice watch — I've always loved watches.
What is a fashion crime you have committed in the past? For years, I used to always wear these frumpy plaid sweatpants around the house. They were very worn out, and my husband hated them so much that one day he got fed up and threw them out.
Where are your favorite places to shop? I don't enjoy shopping at stores, but I'll buy clothes online at Nordstrom, REVOLVE, Bloomingdale's, HauteLook and H&M. When I'm traveling abroad, I enjoy trying on clothes in stores as it's always interesting to experience the different sizing in other countries. I've picked up some of my favorite wardrobe items in the most random countries.
What, besides your wardrobe, completes your look? A smile — I think a nice smile is infectious.
What is in your bag/briefcase? Laptop, iPhone, makeup, and most importantly, I always make sure I have business cards since you never know when you'll meet a potential client.
My closet is full of… Dresses and skirts; it's so full that I could use some Marie Kondo in my life.
Skirt: ABS by Allen Schwartz; top: Asos; shoes: Isola; watch: TAG Heuer; rings and bracelets: David Yurman, Cartier