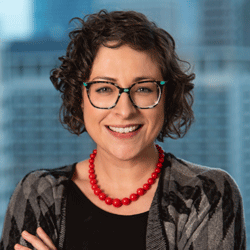 Last month, I was lucky enough to attend the Chicago Association of Realtors 2019 Market Update. All of the speakers had smart insights on how agents and brokers can cope with what's expected to be a changing market over the next year or so. But CAR President Tommy Choi noted that, despite the uncertainty hanging over the market right now, the fact remains that, "We're lucky to be in an industry where, within 12 months, we can legitimately double or triple our incomes."
It's true, and it's one of the things that attracts many to real estate: Any one of you could end up on a list of top agents in Chicagoland any given year. Now that's not to say it doesn't take grit, hard work and even a bit of luck to get there. But many agents are drawn to the industry by the very fact that there are fewer institutional limits to their potential in real estate than there are in other industries.
Our Real Data issue is an opportunity to examine the lists of the movers and shakers in the industry. And this year, we changed the way we create these lists. We partnered with our friends at Midwest Real Estate Data, who gave us the MLS information we needed to get started. Then we reached out to agents and offices to verify the data and see if they had off-MLS sales or other idiosyncrasies that might cause us to adjust our rankings.
As you dig into the data in this issue, you may rightly notice that the way we slice up the data benefits real estate professionals who concentrate their work in one county or another. It's the nature of the beast unfortunately; we had to choose some container in which to present our data, and as Chicago Agent magazine, the six-county region is what has made the most sense to present this data over the years. Also, those who deal in vacant land or commercial property will have lower rankings here than their full production numbers.
Are you one of these agents who have high overall numbers but didn't make it into the Real Data issue? Send me a note about what makes you stand out in your market (or anything else that's on your mind) at meg.white@agentpublishing.com. I'm already working on our top producers issue, coming out in two weeks, and would love to add your voice to the mix.