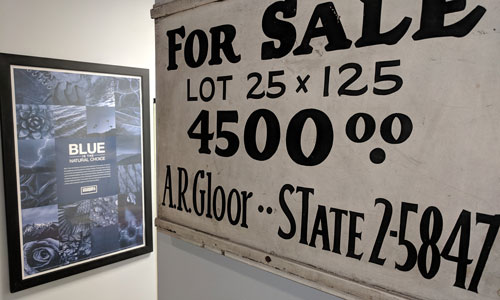 Handing over the reins of the family real estate business where you started your career could end up being even more stressful than handing over the keys to the house you grew up in. But Rich Gloor said that hasn't been the case as Gloor Realty has transitioned to becoming the new Oak Park office of Coldwell Banker.
"It's a little surreal at moments," said Gloor, who now serves as vice president for growth at On Collaborative, a new development condo sales and marketing company affiliated with Coldwell Banker. "I'm really comfortable with the decision to do it. It was just the right time to go through with it."
The office changed ownership and branding in late 2017, after about 70 years of operating in the area. It started as Decker & Gloor, a company founded by Rich Gloor's grandfather in the years following World War II.
Lewis Jones, formerly the managing broker at Coldwell Banker's Lakeview office, was tapped to lead the new Oak Park acquisition after the change became final. He was so committed to the new position that he and his wife recently bought a house near Oak Park, moving from Chicago to be more a part of the local community.
"We really try to recognize the history of the business here," Jones said. That recognition is reflected in historical photos featuring scenes from Oak Park and Gloor Realty over the decades. And any advertising and signage used by the Oak Park office includes not just a Coldwell Banker logo, but also says "formerly Gloor Realty."
A longstanding Gloor Realty tradition was a yearly mailing of thousands of little sponges with the company's logo on them. It's the kind of thing that if you grew up in or around Oak Park, you might remember long into adulthood. According to Jones, there was no reason to dispense with quirky, one-of-a-kind marketing efforts like that one. "I got here, and I said, 'We need to keep doing that.'"
So the sponges still go out—but with a Coldwell Banker logo and a reminder that the brand's Oak Park office used to be called Gloor Realty. "It's one of those things that reminds people in the community that not all that much has changed," Jones said.
What has changed? Jones said part of what Coldwell Banker hopes to provide to the small, local shops it acquires is the access to infrastructure that a large, global company can offer. Becoming part of a national brand has expanded everything from social media reach to corporate relocation referrals to the ability to feed listings to websites all over the world.
"Having access to so much technology and tools, as a mid-sized company we just couldn't afford to keep up with all of it," Gloor said.
But none of it works without local expertise. Jones said he was recently conducting a training with agents in the Oak Park office on a new tool in the MLS that shows a map of local homeowners, and before the names of owners would pop up, agents who'd been with Gloor would blurt them out from memory.
"The agents here are definitely experts on the area," Jones said. "I say without hyperbole that they are the best staff I've ever worked with in real estate."