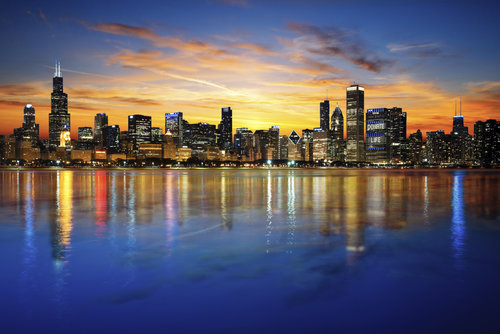 Tourists and locals alike flock to Michigan Avenue daily to see the glassy Apple Store located by the Chicago river. The 20,048- square-foot store, shaped deliberately like a Macbook, has just been sold to Invesco for roughly $79 million. Invesco, an investment firm based in Atlanta with $888 billion in assets, will be paying approximately $3,900 per square foot for the building. This price makes it the fifth most expensive property retail sale ever in Chicago.
The property was formerly owned by Walton Street Capital, a private-equity firm. Bought in October 2017 for $360 million, the deal included the 35-story office tower that neighbors the store. The property has since been divided into three pieces: the apple store, the retail space at 401 N. Michigan and the office tower in the hopes that future buyers would be willing to pay more for each part if they were sold separately. The property was put up for sale last March with a hopeful price of $170 million and brokerage firm Eastdil Secured was hired to sell it.
The store cost upwards of $80 million to build, but the majority of that was covered by Apple, who still pays $2.5 million annually for the space.
Invesco is said to be purchasing the property for an "institutional client." The company also owns an apartment building in Streeterville with nearly 400 units and a 175-unit apartment building in Evanston.
•Onni group, a vancouver based developer, is buying the Union Tower at 550 West Van Buren Street in the West Loop for $80 million. The building was formerly owned by Principal Life Insurance and is 91 percent leased. The building's current occupancy surpasses the downtown area's average by 4 percent and the largest tenant in the building is Huron Consulting Group at 134,000 square feet.
•A Lincoln Park site made famous by the 1990's sitcom "Family Matters" has condos now for sale. A three-story structure at 1516 West Wrightwood Avenue now stands where the three-story wood frame house from the show's opening montage stood. That home sold in December 2016 to a developer for $798,000. A four-bedroom unit in the new building recently sold for $1,295,000. A small engraving honoring the show is built into the new building's gray brick facade.