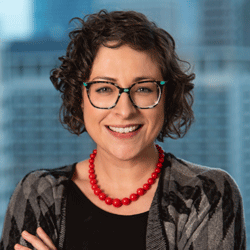 One of my favorite sources of economic news is National Public Radio's Marketplace. For the past couple of years, the show's hosts have been running this interesting segment called "My Economy" where they try to get at larger market trends by focusing in on one person's experience. It's a classic public-radio approach to storytelling and has the added plus of offering a break from the up-and-down machinations of the stock market.
But there's another reason why it works, and that has less to do with reportage and more to do with how our brains work. While we all know how important the economy is, we don't always do the best job connecting the big picture with what happens to us every day on the ground level. Maybe that's why macro- and microeconomics were invented: because human beings have trouble keeping both these points of view in their heads at the same time. But still, we recognize that the economy has a big impact on how we do business.
Real estate is no different. In fact, if we learned anything from our last issue exploring predictions for 2019, it's clear the economy will play a major role in the future of housing. Rising rates, inventory issues, and uncertainty around global and local markets were all big factors in what the experts we've been talking to for the past few months are tracking. But how do all those predictions connect with the daily lives of agents, brokers, developers, builders, lenders and the rest of the housing ecosystem?
To try to get beyond the common predisposition against seeing the full market picture, we spoke to economists and real estate professionals who think deeply about the intersection of real estate and the economy. We wanted to learn how economic factors will change the environment that brokers and agents work in every day. Our aim, as always, is to help our readers better understand that environment so that they can prepare their businesses for a successful future. If you have an economic question we should look into, let me know! You can always reach me at meg.white@agentpublishing.com.