What was your first job in the industry?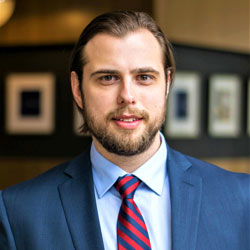 I was leasing out apartments in the Gold Coast neighborhood of Chicago.
Where did you grow up?
Barrington, Ill.
Growing up, what did you want to be?
I wanted to be a professional sports agent.
What do you do to relax when you're stressed?
I play basketball and listen to music.
If you could have lunch with a well-known figure (living or not), who would it be and why?
I would love advice on how to create my own luxury real estate super brand from President Donald Trump.
Where is your favorite place to hang out?
A successful luxury broker works seven days a week. But when I'm not working, I like to hang out on my couch or grab a burger with my wife at Brandt's in Palatine.
What do you love most about the industry?
The people: I have the opportunity to talk to and meet extraordinary people every single day. This industry is never boring.
How do you distinguish yourself from the crowd of agents?
I work smarter — not harder. I create a plan and stay focused. Working as an agent for the top luxury brand Jameson Sotheby's International Realty also plays a big role in separating myself from the competition.
What is the most difficult aspect of your job?
Taking an overpriced listing is really hard. Competition is fierce and most agents want as many listings as possible. Where do we draw the line and walk away from a potential client? This is extremely difficult, but I always try to think about the amount of marketing dollars that will be spent on any particular client.
Where do you go to network and meet new clients?
Neighborhood events and local restaurants and bars are always a good bet. I keep a stack of business cards with me at all times and I try to hand out at least five a day.
What has been your greatest accomplishment?
My greatest accomplishment has been working with Jameson Sotheby's International Realty on the Connie Antoniou Team.
What was the last good movie you saw or book you read?
I really enjoyed the Amazon Prime original called "Goliath," starring Billy Bob Thornton.
What is your favorite restaurant?
The piano bar ambience at Palm Court in Arlington Heights is outstanding. I recommend the tournedos of filet mignon.
Architecturally speaking, what is your favorite building in Chicago?
The Chicago Water Tower, which is one of the only buildings that survived the Chicago fire in 1871,
What kind of car do you drive?
BMW 328i
Smartphone or paper?
Smartphone
What is your favorite city after Chicago?
New York City
In 10 words or less, what is your advice for someone new to the industry?
Create a business plan and network.
What's your favorite real estate iPhone/Android app?
Curate by SIR is a great app that allows a new homeowner to design and purchase furnishings for their new home using augmented realty.
Who are your favorite people to follow on Twitter?
I follow Barstool Sports, 50 Cent, the Chicago Bulls, the Chicago Bears and Donald Trump.