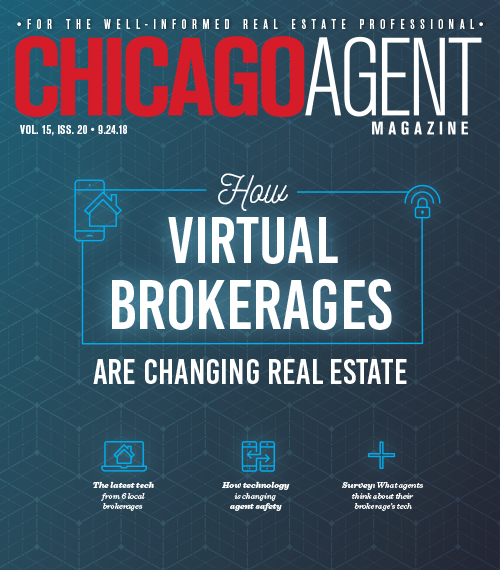 Rapid technological developments in recent years have changed the way people carry out countless tasks every day. Finding a new home is no different, as the high numbers of potential buyers who begin their search online can attest. Agents themselves have made shifts in the way they do business, particularly with the advent of smartphones in the last decade giving them access to more information and enhanced communication tools they can take anywhere.
Tech-oriented brokerages are doing everything they can to put the right tools in the hands of their agents so that they can give their clients the full, efficient service those homebuyers expect.
"For the immediate future our goals are simple, streamline every process we can to create every efficiency possible," says Scott Petronis, chief product and technology officer for virtual brokerage eXp Realty. "Well, maybe not 'simple,' but it's what we're focused on. We're integrating systems, automating the things that are better done by computers, making it easier for staff and agents to accomplish the various tasks they need to perform on a daily basis. Building efficiencies reduces errors, minimizes risks and eliminates wasted efforts so people can focus those things that deliver the greatest value."
Russ Cofano, president of virtual brokerage Real, says his company is intent on delivering the high-end value that real estate agents would typically get from a brick-and-mortar company but without the brick and mortar. That includes offering marketing, coaching and administrative support that would ordinarily come from a broker-owned office.
"What we're trying to do is we're trying to replicate all of that," Cofano says. "Those things are all important to the successful agent, but we believe that you don't need a brick-and-mortar office to deliver them. Our approach is to do that through the digital world. We are a startup company and it's all within the mission and the vision of the company to be a full-service brokerage company. We provide training, coaching and support. We provide marketing materials. I don't want to get into a compare and contrast specifically, but at the end of the day the vision is that we will be able to provide all of those things at the same level as some of the major companies."
The changing environment
For modern agents, adapting to those changes is a necessity if they want to remain productive and offer the best service they can to their clients. Homebuyers themselves want agents to be savvy about technology. In a recent Owners.com survey, 36 percent of the 1,000 recent homebuyers surveyed said they want to work with an agent who demonstrates a proactive approach to technology in order to streamline the process.
The technology tools provided by companies like Real and eXp Realty help agents facilitate transactions, Cofano says. While some consumers may come to see agents as mere conduits to completing a purchase digitally, technology can make agents even more indispensable.
"We believe that while that is something that could grow, when you're dealing with for the most part what is in many peoples' lives the most important and consequential transaction, they're going to want the help of a professional," Cofano says. "Our job is to help position our professionals to be the most valuable and relevant in that process. We're not in any shape or form positioning the company to take over their jobs, we're there to help make them better and more valuable so that as these other models come into play, our agents are able to maintain their place in the real estate ecosystem."
Homebuyers still want agents to help them handle the search process, particularly through their knowledge, expertise and the industry-specific tech tools available to them. People looking for homes can be self-informed about details such as walkability rates, crime and property taxes, but they continue to rely on agents to provide information about the property itself and insights into the community. Making themselves accessible through technology gives agents the ability to leverage that knowledge into tangible results for their clients.
Efficiency and organization were key factors in the homebuyers' desire for their agents to employ technology effectively. Forty-six percent of those surveyed wanted the agent to keep track of appointments, viewings and follow-ups in one place, while 42 percent wanted to be able to go online and schedule viewings. Additionally, 30 percent wanted to use mobile apps as their primary means of communicating with the agent.
Petronis sees the adaptation of new technology to fit the real estate industry as an outgrowth of its general ubiquity and the ease with which digital tools can now be built to fill niches. "There is near saturation of broadband access, high-speed mobile devices, and even things like smart TVs and smart home devices are flying off the shelves at break-neck paces," Petronis says. "The population is fully wired/wireless and hungry for everything 'right now.' So no one can ignore that you simply cannot run any business without an increasing level of technology and technical competence."
---
---
A growing appeal
Traditionally, agents have relied on the support of a physical office to help them generate leads and complete transactions with their clients. Cloud-based technologies have given startup real estate companies like eXp Realty and Real the flexibility to do away with the brick-and-mortar brokerage in favor of software and collaboration tools that can be used anywhere.
Real provides a centralized platform that operates out of New York. The 1,000 agents the company has across 22 states can get help with finessing and processing transactions, including getting commission disclosures correct and set. The company's app gives agents access to numerous tools from the minute they join, including a Facebook-like networking tool that can be used to build relationships across the country.
"An agent can join our company, download our app and within five minutes they can have a fully branded IDX-enabled website," Cofano says. "Not many of our agents go above and beyond that, but the ability for an agent to get into business and get productive is amazing, quite frankly.  The app is sharable to clients. If an agent is working with a client, they send out a link, the client clicks on the link and downloads the app and now they're connected with their client in terms of sharing properties and communicating. That's great in a context of not only the transaction they're working with, but in maintaining contact with that client even after that transaction."
Growth has been rapid for eXp Realty, which has gone from 2,000 agents to more than 12,000 in 18 months and is now in 49 states and three Canadian provinces, according to Petronis. The company offers a full suite of productivity tools to help agents engage with clients through the company's eXp World cloud campus.
"Today it's a mixture of lead generation services, websites and a mobile app with IDX and targeted landing pages, a pretty robust CRM with various automation and outbound capabilities, marketing tools and programs and transaction management with various automations," Petronis says. "But because we've grown so fast, there are many opportunities for us to improve on every front. Honestly, we're never satisfied with standing still."
Agents with eXp Realty help set the company's priorities through surveys and heavy usage of social media. "We also leverage Facebook Workplace in perhaps the largest implementation in real estate," Petronis says. "Every agent has an account and roughly 60 percent use it every month. In there we enable them to post on topics they care about, comment on topics we inform them about and we create real-time polls to capture instant feedback about specific topics. It's truly incredible how quickly we can get an accurate pulse on things like never before."
With more opportunities to collaborate and access software and documentation digitally, agents with tech-based firms can dramatically reduce their overhead expenses. Cofano cites those savings and an attractive commission split that's capped as motivating factors for many agents joining Real.
"That enables the agent to take the money that they historically were paying to their brokerage company and reinvest it in their own business to get things that they might need that are unique to them," Cofano says. "A lot of brokerage companies try to be all things to all people. That's not scalable or efficient. A lot of brokerage companies will deliver a 'here's what you get' which might work for some agents but not for others. We like to think that we will be able to provide some elements of the equation, the support equation and the marketing equation, to agents, but also give them resources so that they can refine that and differentiate it in the way that they see fit."
Petronis credits a generous value proposition for eXp Realty's rapid growth. That includes the ability to work from anywhere via the cloud, a $16,000 commission cap, revenue sharing and stock options. The company continues to look for new ways to leverage technology to help agents, in addition to the training, mentoring and collaboration options available through the cloud campus.
"Longer term, we believe that the relationship between consumers and agents is ripe with opportunities to create new value," Petronis says. "We want to enable our agents to create and maintain long-lasting relationships not by replacing them with technology or even letting technology get in the way, but by strategically leveraging technology where it can add that extra value to their personalized approaches. We have a number of areas to target and have already started thanks to the incredible ideas and input our agent community provides."