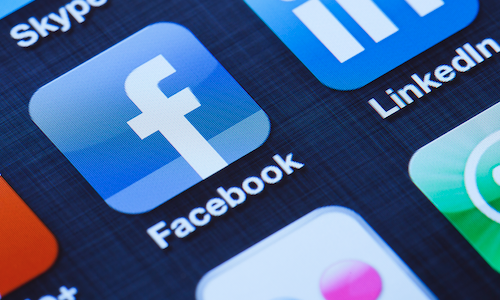 Facebook recently announced changes it will be making to its advertising tools after the company was accused of potentially enabling housing discrimination on the platform.
Earlier this month, the U.S. Department of Housing and Urban Development filed a discrimination complaint against Facebook claiming that the company violated the Fair Housing Act by allowing landlords and home sellers to target and exclude users from certain locations using its advertising platform.
According to the formal complaint by HUD, Facebook allowed advertisers on its websites to control which users receive housing-related ads based on a number of factors including a user's race, color, religion, sex, familial status, disability and ZIP code.
In order to "prevent misuse," Facebook is now removing more than 5,000 targeting options, including limiting the ability for advertisers to exclude audiences based on demographic information like ethnicity or religion.
The Chicago Association of Realtors told Chicago Agent that while social media is an important tool for Realtors, it is always important to follow federal, state and local fair housing laws in all advertising.
"Realtors should have a knowledge of Chicago's fair housing laws, which are more comprehensive than the state and national protections, and act in accordance with both real estate license laws and the Code of Ethics to avoid violations," CAR said in a statement. "It is in the Realtors' best interest to ensure their advertising markets to a broad audience and avoid the use of ad filters that limit advertising to any protected classes as defined by the Fair Housing Act, including race, color, age, religion, national origin, sex, sexual orientation, disability, familial status and zip code."
Facebook will also be including more information and working to educate advertisers about discrimination policies. The company is rolling out a new certification to all U.S. advertisers that will be required in order to continue advertising on Facebook.
"We've designed this education in consultation with outside experts to underscore the difference between acceptable ad targeting and ad discrimination," Facebook said in a statement online.
While there are not specific details about the details of the certification, an image from Facebook – included below – highlights what is to come.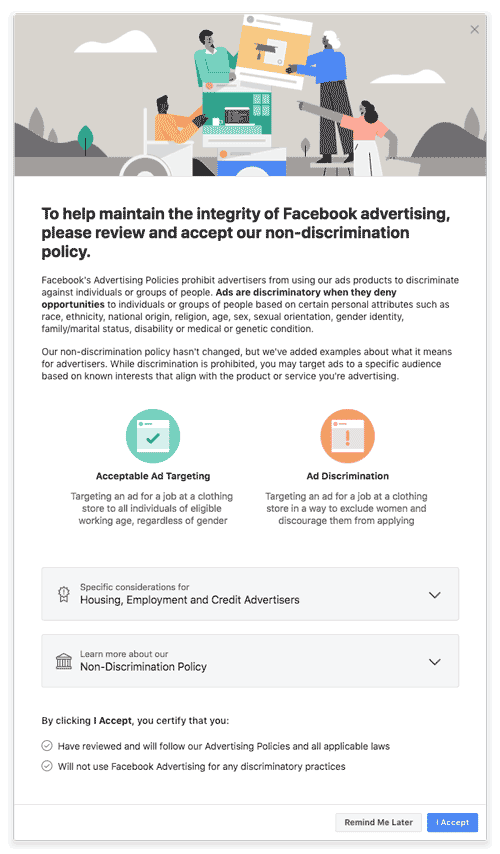 Source: Facebook