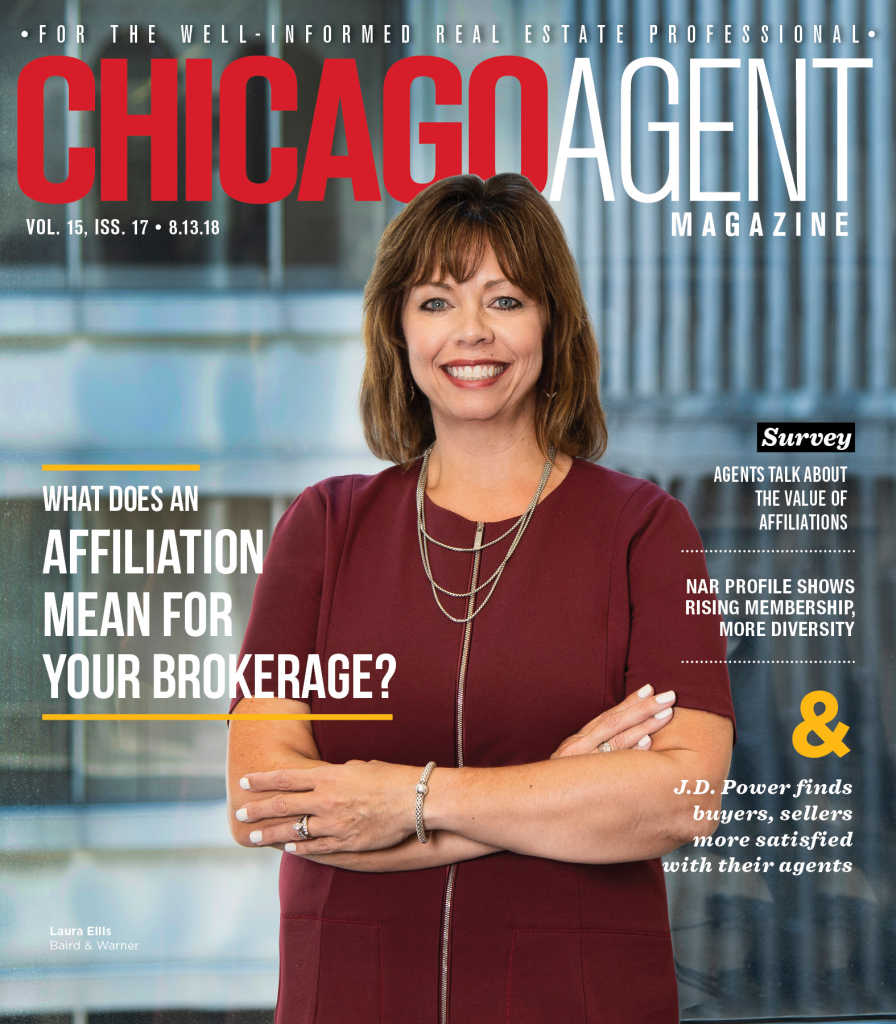 Becoming affiliated with one of the major real estate networks or companies can give brokerages access to resources that help them thrive. Affiliations provide access to contacts and clients that agents might otherwise struggle to reach. Their robust technology and marketing offerings can equip real estate professionals with the tools they need to reach new levels of success. They can be better positioned to provide the high level of service that clients expect and require, while potentially offering more name recognition that makes them more attractive to people seeking to buy or sell.
Major networks such as Leading Real Estate Companies of the World (Leading RE) and Leading RE's Luxury Portfolio division, or globally recognized brands such as Sotheby's International Realty or Christie's International Real Estate, offer opportunities for agents and brokers to reach beyond their local market to serve their clients and create more business.
The power of networks
Laura Ellis, president of residential sales and executive vice president of Baird & Warner, considers her company's affiliation with Leading RE to be its most beneficial. Leading RE connects 565 independent residential brokerages and more than 130,000 sales associates in more than 70 countries.
That kind of global reach gives Baird & Warner instant access to referrals they can use and opportunities to develop mutually beneficial relationships with agents and brokerages in other markets. A similar relationship with The Realty Alliance provides connections with the biggest and most productive brokerages throughout North America.
"We have meetings with both of these organizations throughout the year where we sit around the table and we discuss challenges and issues and things that are going on in the industry and things that are going on in our local marketplace," Ellis says. "We're able to get perspectives from other top-notch real estate people, and so we're able to bring that back to the organization."
John D'Ambrogio, executive vice president of relocation and corporate services at @properties, also values the global reach that Leading RE provides. The company benefits from the affiliation through increased business, marketing tools, networking and education opportunities.
"You have 500-plus companies in Leading RE," D'Ambrogio says. "With very few exceptions of worthy competitors in our marketplace who are in it, the companies are in New York or Michigan or Texas or London. They have nothing to lose by sharing best practices with us because we're not in the backyard of 99.9 percent of people."
The network's conferences and special events provide attendees with opportunities to have in-depth, one-on-one discussions in which best practices can be shared and connections can be made. The conferences also offer specific tracks for attendees to follow based on their role or specialty. Managing brokers, relocation specialists like D'Ambrogio, marketing professionals and agents can learn new practices that can help them in their business.
"Being globally connected and world-wise is one of the greatest benefits of being a member of LeadingRE," says Paul Boomsma, president and CEO of Leading RE. "We have active market-leading firms in over 70 countries — adding 18 new global members already this year — and these professionals share ideas, strategies and business opportunities."
In addition to Leading RE, @properties is affiliated with Luxury Portfolio, which is an exclusive marketing segment of Leading RE that gives agents access to well-designed materials that can help them get the word out about their services.
"We had an agent who is competing with three other brokers for a listing," D'Ambrogio says. "Not surprisingly, one of the other brokers was touting their ability to market to Chinese buyers through Juwei. Through our affiliation with Luxury Portfolio, we have links to sites like Juwei. We also have a preferred advertising relationship with the Wall Street Journal, which is definitely a helpful tool for our clients. They ended up decided to work with @properties when we were competing against a number of different brokers for their business."
Affiliations offer opportunities to make contacts with other real estate professionals, brokerage owners and senior management who might be able to offer useful advice or insights, Ellis says.
"It's a relationship business at every level," she says. "These affiliations help enhance those relationships and the building of these relationships. I have found them tremendously beneficial."
Reaching the next level
Caitlyn Terrell, chief marketing officer at Jameson Sotheby's International Realty, has seen her company's business take off in tremendous ways.
"Since joining the Sotheby's International Realty Network in 2011, our sales volume has increased by 363 percent," Terrell says. "I would say there's quite a benefit there. Part of that is the affiliation with the brand itself, which sets us apart. Then there is the global network, the innovative technology and the unique and exclusive marketing partnership that it has opened up to us and our brokers."
Sotheby's International Realty's global reach provides access to a vast network of 22,000 sales associates and 960 offices in 72 countries and territories. In 2018, Jameson Sotheby's International Real Estate has more than $220 million in transactions in the luxury portion of the Chicago market ($2 million homes and up), a number that Terrell says gives the company the top luxury market share in the area. The brand recognition attracts agents who associate with the brand name and have access to the right buyers for those luxury homes. A study by Boston Consulting Group indicates that potential clients associate its name with other luxury brands such as Cartier and Mercedes-Benz. The affiliation enables agents to connect with other brokers to make buying and selling more than a transaction, but a lifestyle experience.
"I see the highest value in the brand affinity and broker connections that we gain through our affiliation," Terrell says. "This is a relationship business, and our network thrives because of the worldwide connections this fosters, which our agents take advantage of daily. Just this year, our global referral network has closed over $1.3 billion from 4,000 referrals. The Sotheby's International Realty brand itself certainly provides the opportunity for us to have a lot of cache in that luxury sector."
---
More from this issue
Survey: Agents talk about the value of affiliations
How agents can benefit from their brokerage's affiliations
NAR profile shows rising membership, more diversity
---
Tools of the trade
The benefits of affiliations don't stop at the networking opportunities they provide. Affiliations offer robust marketing and technology tools that can give agents an edge over the competition. They can help brokerages with staffing models that can fully support agents and brokers so that they can focus on their clients and concentrate on helping their business grow.
"As a broker, you want to be able to deliver the best possible service to your clients," Terrell says. "Leadership and experienced staff support is crucial, from administrative to effective marketing, so that our brokers can focus on these client relationships. I stay in touch with our incredible network of affiliates. It's an invaluable resource to tap into to discuss opportunities for growth and innovation, especially in our current marketplace when vetting new technologies."
The marketing materials that are available to @properties agents through Luxury Portfolio International go beyond advertising relationships with publications like The Wall Street Journal and slick campaigns designed to catch the eye of potential clients. Technology tools are also available through the affiliation that can help agents develop attractive presentations that include useful data.
"For the most part, it's a marketing vehicle," D'Ambrogio says. "Agents have access to some top-notch, incredible stuff that can enhance their presentation and incredible data that they can use. There's a program called Luxe Analytics. It's reporting tool that will give our agents insights on the Luxury Portfolio listings where they can go back to their owner and give some objective statistics viewing on sites like Leading RE.com and Luxury Portfolio."
Ellis points to the educational opportunities and marketing tools that Leading RE offers as a primary benefit of joining an affiliation. Leading RE offers a management training program called Maestro that can help Baird & Warner's leadership learn how to more effectively manage their offices and help their agents achieve their goals.
"It's intensive: three days at a time, three separate times a year," Ellis says. "They will sit in class with managers from other companies across the nation and they are just immersed in how to build a winning culture and how to recruit and train for success in their offices. They develop these relationships with these managers and companies across the country and hold each other accountable by doing the same tasks within the program."
There's also an online learning platform that Ellis finds helpful to many agents and brokers. "It can be customized to our current company and we can add our training materials to it," she says. "It can give us an edge and has certainly made us more efficient and effective in our training."
Leading RE helps agents with reputation management through its consumer reviews program and provides detailed information and resources to support their future growth.
"We offer consumer insights through our proprietary research, give them access to a broad range of cutting-edge technology solutions, provide marketing tools — including our Luxury Portfolio International program for the high-end — and so much more to complement what our brokerages are offering at a company level," Boomsma says.
Terrell often attends conferences in other industries to learn about new technology that might be useful to agents. New tools that can help agents streamline their work so that they can focus on serving their clients is always desirable. Affiliations can help put those tools in the hands of agents. Keeping up with cutting-edge technology offers many innovative ways to market homes to discerning clients.
"Over the course of a few years, Sotheby's International Realty has been the first to create and integrate some of these new technologies through Apple TV and virtual reality," Terrell says. "A few months ago we launched Curate. We are the first real estate brand to put the power of virtual staging through augmented reality in the palm of your hands.
This willingness to keep exploring new technology tools helps Sotheby's International Realty and other top brokerages maintain their place at the forefront of the luxury market.