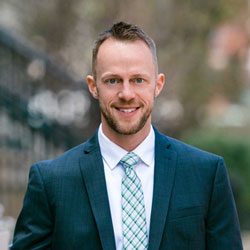 What was your first job in the realty industry? Broker.
Where did you grow up? Iowa.
Growing up, what did you want to be? Farmer.
What do you do to relax when you're stressed? Work out.
If you could have lunch with a well-known figure (living or not), who would it be and why? The Pope. I'd be interested to see a perspective on life from someone who touches people throughout the world.
Where is your favorite place to hang out? On a beach or in the mountains.
What do you love most about the industry? The flexibility and how it is always evolving.
How do you distinguish yourself from the crowd of agents? I try to go above and beyond with service to my clients. I feel I do a lot of things many agents don't: cleaning, painting, helping contractors and more.
What is the most difficult aspect of your job? Keeping all parts of a transaction moving in the same direction and in a calm manner. It is easier when you have a good team of professionals to work with.
Where do you go to network and meet new clients? Restaurants, sporting events, or just by hanging out with friends.
What has been your greatest accomplishment? Being a Top 20 Chicagoland agent in 2015 by YTD growth.
What was the last good movie you saw or book you read? "Another Brooklyn."
What is your favorite restaurant? Chicago Pizza and Oven Grinder.
Architecturally speaking, what is your favorite building in Chicago? Chicago Athletic Hotel.
What kind of car do you drive? Lexus NX Sport.
Smartphone or paper? Smartphone.
What is your favorite city after Chicago? Nashville.
In 10 words or less, what is your advice for someone new to the industry? Go to the office daily and talk to people.
What's your favorite real estate iPhone/Android app? Evernote.
Who are your favorite people to follow on Twitter? I don't really use Twitter. I prefer Instagram.