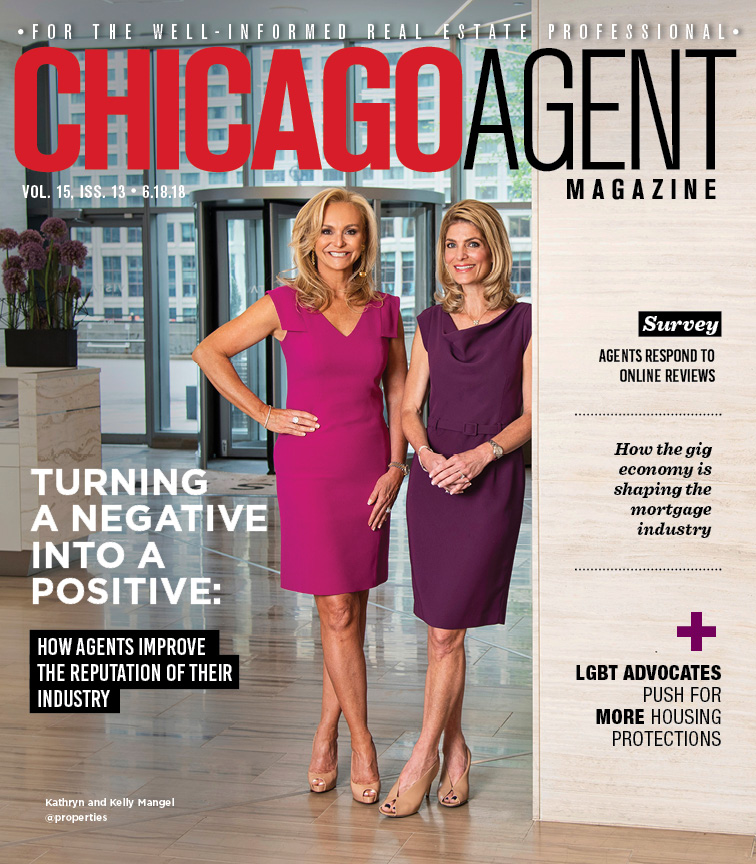 Real estate agents who achieve millions of dollars in sales each year and have a strong network of clients and contacts will still often have to deal with the public perception that agents are less than trustworthy. Even those with a long track record of success may suffer from this image.
The polling firm Gallup has found that just 20 percent of those surveyed stated that they view real estate agents as "trustworthy" or "very trustworthy."
Conversely, 25 percent of respondents ranked agents' integrity as "low" or "very low."
Fifty-three percent rated agents at "average" for trustworthiness and 2 percent had no opinion.
The team of Kathryn and Kelly Mangel with @properties see part of the problem with trust stemming from a lack of knowledge on the part of agents.
"What we find is that a lot of agents don't have the experience and don't understand they need to reach out to experts when they don't have the right answers," Kathryn Mangel says. "If you don't understand what a mold inspection is, for example, call an expert."
Jennifer Ames, president of Ames Group Chicago with Coldwell Banker Residential Brokerage, attributes the negative perception that agents are less than trustworthy to a savvier clientele base that has more information at hand than ever before through online resources. Potential homebuyers can research homes online and make an appointment with the agent or attend a showing while having a wealth of information about a particular listing.
"If an agent comes in knowing less than their client, the client is not necessarily going to believe the agent is a trustworthy representative," Ames says. "They're going to see them as somebody who is driving them around. I like to think that I'm in a category where my clients would say I'm very trustworthy. The better agents are the ones who have evolved in this market and have learned to continue to add more value to the process."
When multiple offers are involved, clients may even feel manipulated or deceived, according to Ames. "In fact, it's the market and the economy doing what it's supposed to do," she says. "When you're one of the people competing for a home, you can feel bad about it, because usually there's only one home and more than one interested party."
Bill White, Sr. of Baird & Warner says the most prevalent issue is related to communications or service problems, or potentially resulting from a lack of training. "We try to set expectations with our clients up front so that they know what to expect," White says. "If we're not doing our job, they'll tell us pretty quickly."
---
Also in this issue
Survey: How do agents handle online reviews?
Real estate industry fights back against LGBT discrimination 
Mortgage giants want to help 'gig economy' workers qualify home loans
Experience makes a difference
Fighting negative perceptions is vital in an industry that is heavily reliant on reputation and referrals from past clients. The National Association of Realtors' Home Buyer and Seller Generational Trends Report for 2017 revealed that honesty and trustworthiness were the most important factors for choosing an agent, according to 21 percent of purchasers surveyed across age groups. They actively sought out agents who were honest and who were known for their integrity, along with traits like responsiveness, knowledge of the real estate market and an understanding of the homebuying process.
The Generational Trends report also found that among all sellers who worked with a real estate professional, 31 percent said that having a favorable reputation was the main reason for choosing an agent.
Eighty-five percent of sellers said that they would "definitely" or "probably" recommend their agent.
Sixty-seven percent revealed that they would definitely work with the same agent again.
The Mangels take a multifaceted approach to building trust that encapsulates many of the factors that bring consumers to agents.
"When we talk about trust, the underlying key elements of trust that our clients are looking for are confidence in our ability to get the job done in our marketplace and the individual market segment, the expertise that is necessary in today's marketplace and communication," Kelly Mangel says. "That's something Kathryn and I pride ourselves on because that is where we see the best results for our clients."
White sees value in agents trying to improve through educational opportunities and networking. Simply gaining more experience can also be the key to building a good reputation in the industry.
"Sometimes it comes down to experience," he says. "Just getting in front of people and going through the process while trying to improve your level of service and your level of expertise with each transaction you become involved with is useful. Certainly having a mentor in the business is a really good idea if you're trying to get up to speed."
Ames emphasizes the need for clear communications with clients throughout the process. Multiple-offer scenarios and situations in which a real estate professional is serving in a dual-agent capacity can give clients misgivings about the situation.
"If an agent isn't really clear about what's happening, it can cause people to be anxious. For many people, a home is their biggest asset. It's emotional and it's personal. You add these emotional layers to what may be somebody's largest financial transaction. Of course they're going to have concerns about things such as trust and honesty. That's why as a professional, I go above and beyond with making sure that I'm squeaky-clean, and quite clear and fair in my communication."
For White, the quality of communication is also important. There are fewer phone calls and face-to-face meetings than there once were, he says. Many younger agents in the industry communicate through email and text messaging, which often keeps clients removed from agents to a far greater extent than in phone conversations.
Improving their direct communication skills can help newer agents build trust between themselves and their clients.
"You're trying to put an emotion into an email or a text," White says. "You can say as a new agent that you've communicated with a lot of people, but who are you really communicating with heart to heart?"
Handling online feedback
The Mangels operate an office that's heavily based on referrals. When they feel they have done a nice job for their clients, they ask for a testimonial.
"We work really hard for our clients, and they always ask what they can do for us," Kathryn Mangel says. "We say, 'Write two sentences for us and that will make us happy.' Many of our reviews are recent, which I think is exciting. Our business is so word-of-mouth that we've started to grow electronically where we haven't in the past, so this is a whole new market for us to look at electronic marketing and reviews."
The majority of Ames' reviews have been generally positive, though the occasional negative review will appear. "Obviously I want to understand it," she says. "Sometimes it's just a difference of personalities and they would be unhappy no matter what. If there's a legitimate issue, I want to understand it. If I know who they are, I might reach out to them. If I don't know who they are, I might leave a response online and see if I can figure out the situation."
White's wife, Mary, handles his business's online presence. "She's really good about keeping up with the different surveys that are out there, and sending things out from Zillow and other websites to try to get positive customer feedback. We don't send it out to everybody, but she gets a pretty high percentage of responses and quite frankly they're all positive."
How agents create a better image
Maintaining a good reputation often requires require working closely with other industry professionals to make sure all of a client's needs are covered. Even the way an agent tells a client about problems with the buying or selling process can help create a bond of trust.
"It's all about making sure that everybody on the team is on the same page about conduct and all the things that we do every day," Ames says. "That's everything from how you greet a potential client to how you handle a negotiation of multiple offers and how you give bad news. That's a thing that happens in this business, like 'Sorry the buyer didn't come up,' or 'I got a low offer,' 'The buyer balked on the deal' or whatever it is."
The Mangels recommend weekly meetings to talk about ways to improve. They also advise that agents connect with professionals who can respond to a client's specific needs.
"Help yourself with experts who really do have answers to all of your client's questions," Kelly Mangel says. "Whether it's a great attorney who can get them through the attorney review, or a lawyer who can put their home in a trust, or the right inspectors and specialists, or even a therapist, for goodness sake! Whatever assets you can provide to people to be successful, I think that is the key element here."
White recommends agents simply treat people the way they themselves want to be treated. "Be nice," he says. "Nice is a really vanilla adjective, but it's true. My business is probably 95 percent referral-based, and it's often multigenerational, from parents down to their kids and grandkids. It's trying to do things the right way and give back to the communities we live in."