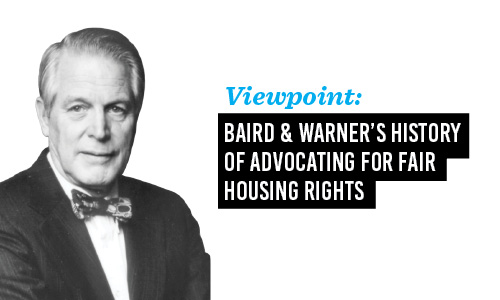 Baird & Warner, the nation's first and Illinois' largest family-owned real estate services company, became one of Chicago's only industry voices in support of opening up housing opportunities for all.
In the early 1960s, John Baird, father of the firm's current president, Steve Baird, was president, and participated as an industry advocate in fair housing debates at the local, state and federal levels. At the time, it wasn't uncommon to hear from some civic leaders who felt that making it illegal for sellers to discriminate against potential buyers based on race, religion or other factors infringed on the owners' individual rights. And they put that above the rights of others who wanted to achieve their own dream of buying a home and setting roots in a community.
But John Baird took a stand to protect the rights of all people to have equal access to the home of their dreams. He testified before the Chicago City Council and the state General Assembly, and he even resigned his position on the Chicago Real Estate Board in protest when it favored opposing fair housing rights.
As a result of his activism and advocacy, John Baird received letters both supporting and opposing his stance. In a letter to an opponent of fair housing in 1965, he wrote eloquently that fair housing should be the law of the land if "this nation is going to survive as one of the great free nations of the world."
His granddaughter, Lucy Baird, who is Steve Baird's daughter, is currently leading a project to create a "family room" for the company, housing the archives for the 163-year-old brokerage, and she's discovered multiple letters tied to the company's commitment to fair housing — particularly her grandfather's and her father's role.
"As we celebrate the 50th anniversary of the Fair Housing Act, we've been celebrating our own history and the leadership my grandfather began," said Lucy Baird. "One thing that's surprised and impressed me is how he personally responded to so many people who wrote to him on this topic — both supporting and criticizing his stance. That is testament to his passion for the city and its people, and his desire to do the right thing — a legacy Baird & Warner carries on today."
John Baird's successor and son, Steve Baird, initiated and signed a landmark fair housing agreement in 1995, the first of its kind between a real estate company and a fair housing organization. Extensive fair housing training beyond mandatory requirements continues to be a major part of onboarding the company's new agents.