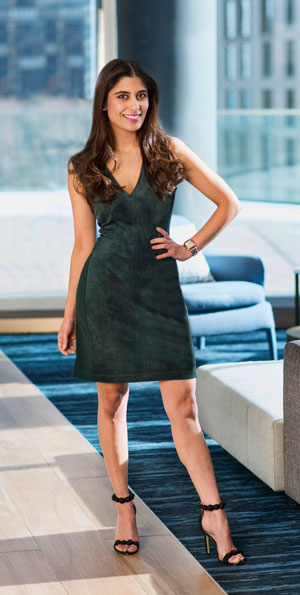 Number of years in real estate: 1
Describe your look: Feminine chic with a dash of edge.
What do you consider a "fashion don't"? I have a few. Super-tall heels, anything with horizontal stripes, and mixing black with brown.
What is your favorite piece of clothing and why? During the fall, my favorite item in my closet is my black leather jacket. It's a smart and simple way to add some edge and personality to your look.
What do you consider a must-have accessory? Personally, I think accessorizing makes all the difference in the world. I never leave the house without my Michele watch, my favorite Lafonn emerald green ring and a pop of Roman Holiday on the lips from NARS.
What is a fashion crime you have committed in the past? Ill-fitted clothing. I cannot overemphasize the importance of finding and keeping a good tailor in the city. Almost every piece of clothing I own is tailored in some way to fit my petite frame and style.
Where are your favorite places to shop? Club Monaco, Rachel Zoe, Zara.
What, besides your wardrobe, completes your look? A great blowout! It's a great confidence boost, and great hair = one less thing to worry about throughout the week. A beauty disaster is never fun and not the most professional.
What is in your bag/briefcase? Advil, portable iPhone charger (because I'm always running low on battery), laptop, mints, travel-size Thierry Mugler, Angel perfume.
My closet is full of… Dresses!!! I love a great silk wrap dress and genuinely believe every woman should own at least one. It is stylish, super flattering for just about any body type and versatile, and can easily transition from day to night in style.
Dress: BCBG, Max Azria, Bloomingdale's; shoes: Sam Edelman, Nordstrom.