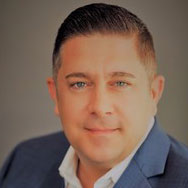 What was your first job in the realty industry? I helped assist Realtors while building my book of business.
Where did you grow up? Skokie.
Growing up, what did you want to be? I have always wanted to have a job where I help others. My degree is in teaching, but I wanted to be a firefighter in the past. I worked in both fields and enjoyed it. I obtained my real estate license to have another source of income. I found it even more rewarding helping clients find their home and foundation in life. I made this my career and have never been happier to service my clients.
What do you do to relax when you're stressed? I feel your health should be everyone's top priority. I really try to get to the gym as much as possible to find some sort of relaxation.
If you could have lunch with a well-known figure (living or not), who would it be and why? I would have lunch with any business entrepreneur that came from nothing and turned it all around. I would want to know how it affected their life. If I had to pick one well-known figure, it would be Howard Schultz, the founder and executive chairman of Starbucks.
Where is your favorite place to hang out? I really am a family man, so I tend to do whatever puts a smile on my daughter's face. That would be my favorite place. If she's happy, I'm happy.
What do you love most about the industry? My love in this industry comes from referrals and returning business. It's always nice to know I did enough positive work that my clients are willing to work with me again or send me one of their friends or family members.
How do you distinguish yourself from the crowd of agents? I try to listen so I can find out my client's dreams and goals. I think of myself as an educator, and my clients' reviews and testimonials prove this. I follow up with all my clients, as this is the building block in keeping business relationships. This job is not about how many sales you can get, but more about how good you are and how you treat your clients just like family.
What is the most difficult aspect of your job? The most difficult part of this job is having clients understand the present market. Many clients want to refer to the past or the future markets. I tend to have to keep reminding my clients about how the market is right now.
Where do you go to network and meet new clients? I have built a book of loyal clients, so I tend to get repeat business or new referrals.
What has been your greatest accomplishment? I have obtained many awards, but my biggest accomplishment is to have a client's referral. There is no better accomplishment or feeling than that.
What was the last good movie you saw or book you read? I recently watched "Lion." It was a great movie and a reminder that we are all here and have goals for many different reasons. We will all fall, but the goal is to get up and keep trying no matter what it takes.
What is your favorite restaurant? Psistaria Greek Taverna.
Architecturally speaking, what is your favorite building in Chicago? My favorite building is 680 Lake Shore Drive. I love the building's masonry work, commercial stores and residential units in the building.
What kind of car do you drive? Infinity Q50.
Smartphone or paper? Both.
What is your favorite city after Chicago? My family and I love Cancun. Until we visit more cities I would have to say there for now.
In 10 words or less, what is your advice for someone new to the industry? Get a mentor and continue your education.
What's your favorite real estate iPhone/Android app? My flashlight app. It comes in handy all the time.
Who are your favorite people to follow on Twitter? I really do not follow people on Twitter. I try to get on there, but there are so many social sites that it's hard to keep up.