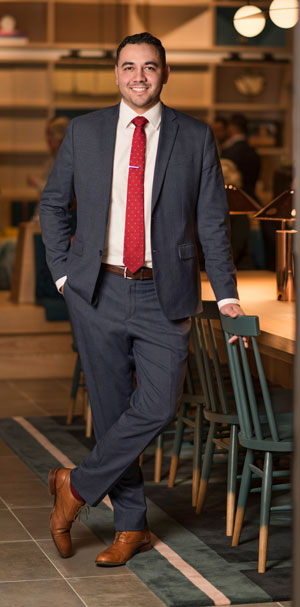 Number of years in real estate: 1
Describe your look: Classic, simple and clean.
What do you consider a "fashion don't"? White socks with black shoes.
What is your favorite piece of clothing and why? A white fitted dress shirt with cufflinks is my go-to. I have multiple identical white dress shirts, which I complement with different suits and ties throughout the week. I realized early on in my career that I could save a lot of time by eliminating the time spent selecting a wardrobe. You can never go wrong with a nice fitted white dress shirt because everything goes well with it!
What do you consider a must-have accessory? I've owned watches since I was a kid. I feel naked when I am not wearing a watch.
What is a fashion crime you have committed in the past? I recently forgot my belt as I was rushing out of the house for a showing. I had to go an entire day without a belt.
Where are your favorite places to shop? Banana Republic, Dapper Club and anywhere I can find a good deal! I've never cared about the brand. Quality and fit are most important.
What, besides your wardrobe, completes your look? A clean haircut. I get a haircut every Friday morning at 7:30 a.m. Weekends are busy for Realtors, and it's important to take on the weekend feeling great about myself.
My closet is full of… Colored socks, suit jackets and white dress shirts!
Shoes: Cole Haan; Belt: J Crew; Suit: Banana Republic; Dress Shirt: Hugo Boss; Socks: Vince Camuto