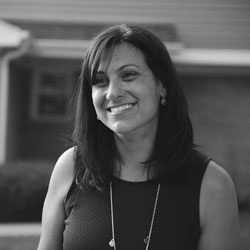 What was your first job in the realty industry? Licensed assistant.
Where did you grow up? Crystal Lake.
Growing up, what did you want to be? A superhero, of course! With a cape and the power to fly, be invisible, fast and brilliant.
What do you do to relax when you're stressed? Snuggle with my kids.
If you could have lunch with a well-known figure (living or not), who would it be and why? Eleanor Roosevelt. She was instrumental in paving the way for The New Deal, and paving the way for women as well. She made certain her opinions were heard by FDR and all Americans, and she was a considerable force in moving the country forward on civil rights, refugees, young people and women in the workplace. Her strong presence was unusual for a first lady and not well-received, but she persevered. She discovered FDR had an affair, and despite her heartbreak, she was able to lead women and underprivileged classes to greater good. She was the first Chair of Presidential Commission on the Status of Women and was very inclusive.
Where is your favorite place to hang out? My patio with family and friends.
What do you love most about the industry? The non-stop, action-packed days and meeting new people from all walks of life.
How do you distinguish yourself from the crowd of agents? Two words: data and blunt. I'm very blunt. I will talk you out of a house if it isn't the right fit. There's transparency in every deal, which is why so many clients are repeat buyers/sellers. I'm the agent that will use all resources available to make it happen.
What is the most difficult aspect of your job? Time. I want to help every person in the world achieve their investment and housing dreams. Truth be told, a dream house is a unicorn. It doesn't exist, even if it's a custom build. There will always be some limitation to space, time, budget or layout, and owning a house is work. But everyone can and should have a home where they can realize their dreams. A home base to rely on for security and comfort where they can be hosting, indulging and enjoying with the people you love. It's the people and the time shared that make a house a home, and an investment a dream.
Where do you go to network and meet new clients? My kids' school, school events, 5Ks, local street fairs and fun events around town.
What has been your greatest accomplishment? Being a strong independent person and an involved, loving mother and wife. My mom, who worked as a secretary by day and bartender by night, scrambled to get by as a single parent, shuttling my sister and I from one house to the next. I didn't know it at the time, but we never really had a home base, a place to call home. I took off as a teenager, which is when it dawned on me how grounding and comforting a home can be. Being able to help people realize that comfort, to get what they want how they want it, fulfills me on more than a career level. Every client is personal.
What was the last good movie you saw or book you read? "Stephanie's Ponytail" with my kids. It's a children's book, but my kids "get it" and understand that being your own person is best.
What is your favorite restaurant? Cafe 28 was my fave, but now I would say Salsa 17 in Arlington Heights. I love the lively atmosphere and the personalized service. And yes, I'll take some of that fresh guac made table-side. And a mojito. Or two.)
Architecturally speaking, what is your favorite building in Chicago? Aqua Tower reminds me of ocean waves riding on the shore, only vertical, and those waves are balconies. I might be biased; it's built by Jeanne Gang. I look forward to when Studio Gang completes Wanda Vista Tower. It will be the world's tallest building designed by a woman-owned design firm.
What kind of car do you drive? Toyota Highlander hybrid.
Smartphone or paper? Smartphone.
What is your favorite city after Chicago? Paris. It was a trip I took alone in my early 20s. I enjoyed the food, people and culture while walking around town and experiencing so many famous sights.
In 10 words or less, what is your advice for someone new to the industry? Follow up. Answer the phone. Be available and accountable.
What's your favorite real estate iPhone/Android app? So many good ones! Cam Card, Houzz, Bankrate, sentirSmart, Dropbox, Asana.
Who are your favorite people to follow on Twitter? Howard Tullman.