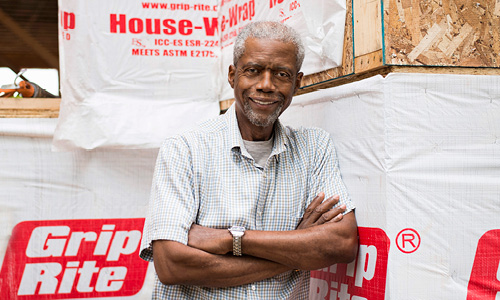 Jerome Wade, president of Wade Enterprises and Associates, Inc. and founder/president of the Southside Builders Association, has been a central force in Chicagoland real estate for over four decades, especially in his work developing the residential market in emerging neighborhoods. He has helped reinvigorate these communities by spearheading major investments and serving as an advocate for homebuyers who seek good value without sacrificing amenities.
One neighborhood that Wade has been particularly invested in is Chicago's historic lakefront neighborhood Bronzeville, where a recovering residential market has been sparked even further by planned housing developments and a renewed commitment from government leaders. Though progress has been sporadic in recent years due to tepid economic growth, Wade is overseeing a new project that has sparked a great deal of revitalization and interest within the community.
The Third Ward Parade of Homes is bringing 42 new single-family homes to Bronzeville to breathe new life into the housing stock in the historic South Side neighborhood.
"The city is looking to stimulate interest in these areas. It has to establish a strong base for real estate to grow on the South Side with new homes," Wade says.
The project kicked off last year with a request for builders to submit their qualifications for building the homes, which follow specific guidelines established by the city in terms of how much they can cost, what materials can be used and their size. The homes will be built in the 3900-4500 block of Prairie, Indiana and Calumet avenues.
The homes will range in size from 3,000 to 3,500 square feet, and are intended to attract homebuyers who might be priced out of other areas that are close to the Loop. Prospective buyers who like the model homes that will make up the parade place orders with the builders, who construct them on lots that were sold to them by the city for $1, contingent on the purchaser agreeing to build on the lots according to the specifications set forth. Forty-two such lots were sold for the project and the homes will cost around $575,000.
A change of scenery
The first Parade of Homes was held on the South Side back in 1997 as a way to reinvigorate the region with affordable new housing built on vacant lots. Wade coordinated the 4th Ward Parade of Homes in 2000 and is also deeply involved in the Bronzeville project. He says that project resulted in more new homes being built in the 4th Ward and selling above the cost of those parade homes. He expects this parade to stimulate interest in Bronzeville.
"It's a very desirable move for a person who is working in the downtown area and has children and is looking for something that will give each child a bedroom," he says. "The modern concept of the property design is very stimulating. It's all upgraded appliances and very attractive."
Bronzeville's proximity to downtown via Lake Shore Drive, the CTA and Indiana Avenue combined with the relatively low cost of homes to make it attractive to young professionals with families who are getting priced out of areas like the South Loop. "The people who are coming this way no longer want to live in condos," Wade says. "They have children and they're looking for a single-family home. The price point fits them quite well. Anywhere else, the price would be as much as 75 percent higher for a home of 3,000-plus square feet."
Wade says that construction is underway on five model homes along Prairie Avenue that will serve as the parade's centerpiece. He hopes for all of the models to be completed by early November, at which point the homes will be fully staged and open for viewing. Wade expects Mayor Rahm Emanuel, Third Ward Alderman Pat Dowell and other area political figures to view the homes when the parade opens and for more than 250 people to pass through the event.
"There's been quite a bit of interest," Wade says. "We've been getting calls and people have been stopping by and looking at the site. Traditionally for the South Side for most parades, they really start to become interested in purchasing once the parade is in place and the models are up and completely staged."