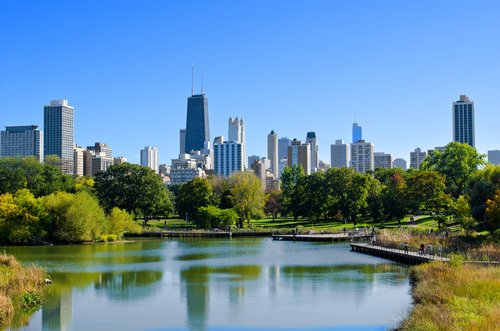 The sale of homes priced at $1 million or more increased 8 percent to 899 units in the second quarter of 2017, according to the recent RE/MAX Luxury Report on Metro Chicago Real Estate. But while the luxury market is healthy, some experts are concerned about the increase in inventory, which was up 2.2 percent in June 2017 over June 2016.
Luxury homes are also staying on the market a bit longer — 167 days in the second quarter of 2017 compared to 164 days during the same period in 2016. The median sales price remained about the same over the same period: $1.3 million.
"The good news is that luxury sales for the quarter were the highest we've seen since we began tracking that data in 2011, and the suburban luxury market showed continued signs of improvement after a slow year in 2016," said Jack Kreider, executive vice president and regional director of RE/MAX Northern Illinois. "What concerns us is that the growth in the inventory of unsold luxury properties in Chicago has risen significantly this year. However, it is encouraging to see that luxury sales in the city did register a modest quarterly gain."
The city of Chicago mirrored the increases seen in metro Chicago, with sales of luxury homes increasing 7 percent to 496, according to the study. The city's median sales price in June 2017 dipped 2.2 percent to more than $1.34 million. The luxury inventory surged significantly to 1,132 units — up 26.3 percent from the second quarter of June 2016.
The biggest increase in Chicagoland was in suburban Elmhurst, where sales more than doubled to 18, up from eight in the second quarter of 2016.