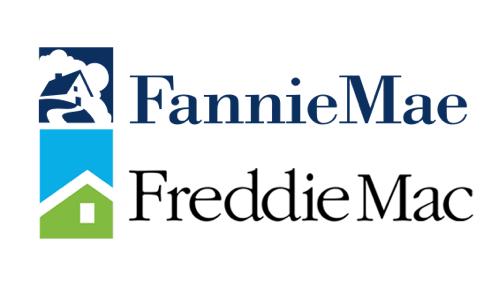 Prior to the Great Depression, potential homebuyers' options for financing housing were limited to private companies. The loan products available at the time – typically short-term renewable loans – featured short maturities, large balloon payments and high down payments. Homeownership remained unattainable for many.
Government action – particularly the creation of Fannie Mae and Freddie Mac – changed that, but the GSEs now face an uncertain future under a new administration. We looked back at the institutions' histories, and have assembled a timeline charting their roles in the U.S. housing market:
---
1932
The Federal Home Loan Bank Act is passed, resulting in the FHLBank System.
---
1933
The Home Owners' Loan Act is passed, and the Home Owners' Loan Corporation (HOLC) is created.
---
1934
The National Housing Act is enacted, and the Federal Housing Administration (FHA) is created.
---
1938
Fannie Mae is established.
---
1944
The Serviceman's Readjustment Act (the GI Bill) is passed, authorizing VA home loans and Fannie Mae's purchase of such mortgages.
---
1954
Fannie Mae is reorganized under the Federal National Mortgage Association Charter Act.
---
1968
Fannie Mae is reorganized again, this time as a government-sponsored enterprise (GSE). It becomes a publicly traded, shareholder-owned company, and as such is removed from the federal budget.
"Ginnie Mae," the Government National Mortgage Association, is created under the Housing and Urban Development Act.
---
1970
Freddie Mac is established, and chartered as a GSE.
---
1971
The first conventional mortgage-backed security is offered through Freddie Mac.
---
1980's
Fannie Mae suffers financial losses amidst rising interest rates and inflation. Freddie Mac's losses at this time are limited, due to its emphasis on mortgage-backed securities.
---
1989
To address the growing savings and loan crisis, the Financial Institutions Reform, Recovery and Enforcement Act (FIRREA) is passed.
Freddie Mac's corporate structure is reorganized, and it becomes a publicly traded, shareholder-owned company.
---
1992
The Office of Federal Housing Enterprise Oversight is created with the enactment of the Federal Housing Enterprises Financial Safety and Soundness Act.
The act amends Fannie Mae and Freddie Mac's charters, introducing requirements to finance affordable housing for low- and moderate-income families.
---
2000's
Fannie Mae and Freddie Mac begin investing in subprime securities and purchasing Alt-A loans.
---
2006
Home prices fall. In Q4, the nation's mortgage delinquency rate clocks in at a four-year high.
---
2008
FHFA and FHFA-OIG are created through the Housing and Economic Recovery Act.
The U.S. government takes control of Fannie Mae and Freddie Mac. In Q4, Fannie Mae reports losses of $29 billion.
---
2009
The FHFA launches the Home Affordable Refinance Program (HARP), which aims to provide refinancing options to borrowers with GSE-backed mortgages, LTV ratios of 80 percent or more and limited delinquencies.
---
2010
The Dodd-Frank Wall Street Reform and Consumer Protection Act is implemented.
---
2015
New "Know Before You Owe" (The TILA-RESPA Integrated Disclosure Act, or TRID) forms and rules are implemented on Oct. 3.
---
2016
HARP is extended until Sept. 2017.