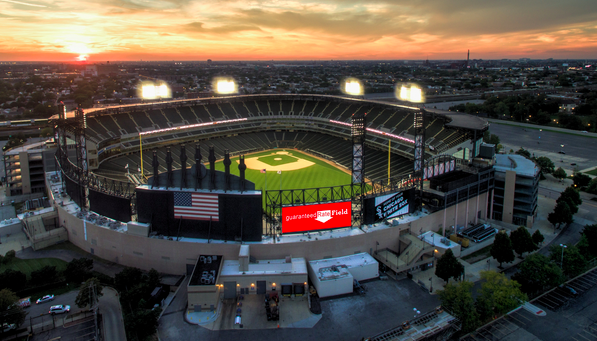 In August, it was announced the White Sox would be changing the name of its ballpark from "U.S. Cellular Field" to "Guaranteed Rate Field," and the logo for the field was unveiled to the public this week, with the new billboard overlooking the Dan Ryan Expressway at 35th street.
Guaranteed Rate secured a 13-year naming rights deal that became effective immediately starting today, November 1.
Guaranteed Rate CEO Victor Ciardelli responded to fan concerns about the logo in an interview with Crain's Chicago Business saying, "I know that there are fans that don't like the fact there's a downward red arrow on the ballpark, but I have a hard time understanding the relevance between our mortgage company's main logo and how that negatively impacts the team or the fans. The whole reason we're doing this is to build national brand recognition."
The design was a collaboration between the Sox and Guaranteed Rate's creative teams. They considered changing the arrow to a home plate, but out of respect for Guaranteed Rate's logo, the arrow was the finalized decision. The new logo will be placed in all locations the old U.S. Cellular logos are being removed.
The Sox were without a corporate partner label since 2013, and agreed to the deal with Guaranteed Rate because they purchased the Home Plate Club, which is a premium and private luxurious seating area in the stadium for up to 200 guests. Crain's states the Home Plate Club purchase was a deciding factor in the Sox signing Guaranteed Rate as the stadium naming partner. For the next 13 years, the company will pay $20.4 million to the Sox, which will be broken into installments of more than $2 million yearly.
This is not Guaranteed Rate's only foray into sports marketing. The company purchased signs along scorer's tables for advertising during NBA games this season, and behind home plate during several MLB games.