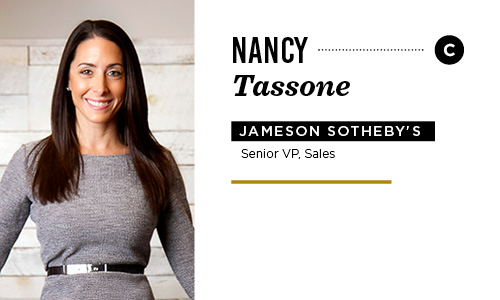 A make-it-happen attitude and a reputation for professionalism and integrity help Nancy Tassone set the standard for real estate professionals. With more than $400 million in closed sales, Tassone has been named a Chicago Association of Realtors Top Producer annually since 2005.
Tassone prides herself on her hands-on involvement at all stages, and goes to great lengths to help clients attain their goals. Clients find comfort in her kind and straightforward demeanor, effective communication and problem-solving abilities.
Born and raised in the North Shore, Tassone has lived in Chicago for 18 years, and is known for her expertise in matching clients with the right properties. Her love of real estate, combined with her experience, has earned her the respect and repeat business of her clients.
As founder and former managing broker of JDL Brokerage Company, Tassone has a comprehensive new construction background, and is responsible for sellouts totaling more than $300 million. Her knowledge of the home construction process has proven invaluable for her clients.
Tassone holds a BA from the University of Wisconsin-Madison, and lives in Chicago with her husband and three children.
"Thank you to Chicago Agent magazine and my colleagues for this award. I've worked with some of the best agents in the luxury market, and being chosen as the Industry MVP, City is very humbling. It's always been my priority to treat fellow agents with respect, so this is truly an honor."
Finalists
Matt Farrell, Urban Real Estate
Millie Rosenbloom, Baird & Warner