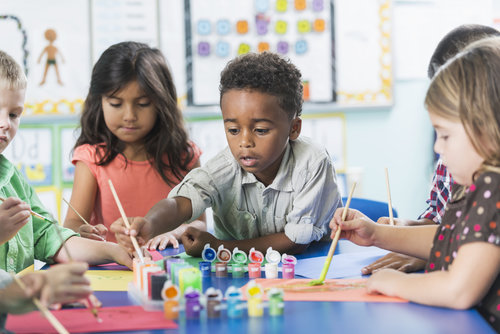 How do the housing markets compare among Chicagoland's top-performing schools? And how do those scores look when the schools are separated by the home prices of their respective markets?
Courtesy of a detailed analysis from RealtyTrac, we have charted Chicagoland school rankings in four distinct categories: top city schools in accessible housing markets; top city schools in pricier markets; top suburban schools in accessible markets; and top suburban schools in pricier markets. For our rankings, we used a median price of $250,000 as the cut-off point.
We should also note two things: first, in regards to test scores, the state average is a score of "1.0"; and second, for more information on which CPS schools are selective enrollment, click here.
| School Name | Suburb | 2015 Test Scores | Median Sales Price |
| --- | --- | --- | --- |
| Nettle Creek Elementary | Morris | 2.5139873 | $150,500 |
| Wolf's Crossing Elementary | Aurora | 2.06400966 | $220,000 |
| Wild Rose Elementary | St. Charles | 2.02975614 | $223,500 |
| Corron Elementary | South Elgin | 2.02908205 | $184,500 |
| Manor Hill Elementary | Lombard | 1.99890944 | $208,750 |
| Old Post Elementary | Oswego | 1.99502446 | $225,000 |
| Erickson Elementary | Bloomingdale | 1.96943453 | $210,000 |
| Prairieview Elementary | Bartlett | 1.89174634 | $238,000 |
| Gwendolyn Brooks Elementary | Aurora | 1.85118859 | $196,500 |
| Prairie Crossing Charter | Grayslake | 1.84705445 | $177,250 |
| School Name | Suburb | 2014 Test Scores | Median Sales Price |
| --- | --- | --- | --- |
| Meadow Glens Elementary | Naperville | 2.54853744 | $356,950 |
| Walden Elementary | Deerfield | 2.52856664 | $407,000 |
| Oak Elementary | Hinsdale | 2.45997681 | $725,000 |
| Highlands Elementary | Naperville | 2.43114482 | $378,000 |
| Oak Grove Elementary | Libertyville | 2.39652816 | $392,500 |
| Barbara B Rose Elementary | South Barrington | 2.38605573 | $450,000 |
| Longfellow Elementary | Wheaton | 2.36122823 | $311,500 |
| Cherokee Elementary | Lake Forest | 2.27579748 | $705,000 |
| Fry Elementary | Naperville | 2.26536621 | $378,000 |
| Earl Pritchett Elementary | Buffalo Grove | 2.22694361 | $282,500 |
| School Name | Neighborhood | 2014 Test Scores | Median Sales Price |
| --- | --- | --- | --- |
| Edison Elementary | Albany Park | 3.03989314 | $243,500 |
| Keller Elementary | Mt. Greenwood | 2.9972586 | $199,500 |
| Decatur Elementary | West Ridge | 2.90718604 | $140,000 |
| McDade Elementary | Chatham | 2.8444527 | $65,500 |
| Poe Elementary | Roseland | 2.65448041 | $41,500 |
| Lenart Elementary | Chatham | 2.45370384 | $62,750 |
| Solomon Elementary | North Park | 2.12212415 | $177,000 |
| Disney II Elementary | Old Irving Park | 1.98529018 | $244,000 |
| Oriole Park Elementary | Norwood Park | 1.96849611 | $225,750 |
| Canty Elementary | Belmont Heights | 1.80846733 | $220,000 |
| School Name | Neighborhood | 2014 Test Scores | Median Sales Price |
| --- | --- | --- | --- |
| Blaine Elementary | Wrigleyville | 2.98741337 | $250,000 |
| Skinner Elementary | Near West Side | 2.65650104 | $330,500 |
| Hawthorne Elementary | Lakeview | 2.42880736 | $379,500 |
| Lincoln Elementary | Lincoln Park | 2.40905574 | $475,000 |
| Bell Elementary | North Center | 2.15733434 | $343,750 |
| Edgebrook Elementary | Edgebrook | 2.02321312 | $345,000 |
| Norwood Park Elementary | Norwood Park | 1.97689347 | $284,500 |
| Sheridan Elementary Math & Science Academy | Armour Square | 1.91751288 | $272,425 |
| Beaubien Elementary | Jefferson Park | 1.78219943 | $250,250 |
| Ogden Elementary | Near North Side | 1.73701157 | $305,000 |