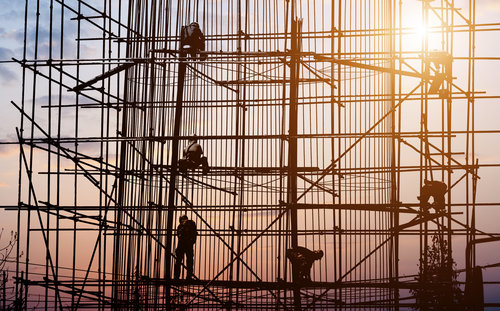 Homebuilding plays a vital role in local economies, contributing to revenue for local governments, new income and job opportunities for residents and – of course – new homes to buy and sell. In its 2015 report, "The Economic Impact of Home Building in a Typical Area," the NAHB estimated that the one-year impact of building 100 single-family homes in a typical local area translates into $28.7 million in local income and 394 local jobs. For multifamily construction, those numbers come in at $11.7 million in local income and 161 local jobs.
But if one wanted to sum up the Chicagoland new construction market's transition from 2015 to 2016 in one line, Graphs and Laughs CEO and Chief Economist Elliot Eisenberg may have put it best in a recent comment to Chicago Agent: "Things haven't changed much."
"Nothing has really changed in the Chicago area," agreed Patrick Coveny, president and owner of Arch Construction Management, as well as the 2016 president of the Home Builders Association of Greater Chicago (HBAGC).
Eisenberg and Coveny are speaking in generalities – there has been some movement in the market, and much of it is positive. For instance, as full-year stats begin to roll out for 2015, we can now officially say that last year new construction in Chicago was up 14 percent compared to 2014; and in December, year-to-date residential construction had reached $4.8 billion (a 10 percent year-over-year increase).
This is all good news for Chicagoland, because the local impact of homebuilding extends far beyond the bounds of the chain-link fence. In its report, the NAHB estimated "additional, annually recurring impacts" of the construction and addition of 100 single-family homes at $4.1 million in local income, 69 local jobs and $1 million in taxes and revenue for local governments.
Single Family and Multifamily: Two Narratives
The single-family market makes up roughly one quarter of Chicago's housing stock. According to data provider MetroStudy, 2015 had the strongest annual closings performance in over seven years, which suggests a rising demand for new homes – something Coveny confirmed, though with reservations.
"We're seeing a little bit of an uptick with new home starts," he said, "but not much."
In 2015's final quarter, new home sales, at 1,622 closings, were up 5.6 percent from the same period in 2014. What those numbers (and an increase in overall single-family sales in January) tell us is that even at the year's end, demand in the single-family market was on the rise, supporting predictions of further increases throughout 2016. But distribution of that demand is hardly even.
A recent decade-long analysis of Chicago's single-family new construction market (by permits issued) showed a distinct saturation of the property type in the North Side (especially higher-end homes), but also a fair amount of building in the South Side. The central West Side of Chicago showed a notable lack of new construction permits issued over the last 10 years, and literally zero in the Loop – most likely because it is an area reserved for mostly multifamily (and commercial) building.
Since 2010, multifamily building has blown up in Chicago. Multifamily starts comprised 51.34 percent of all starts in 2015 – up more than 10 percentage points from 2010. Throughout last year, multifamily permits were up nearly 20 percent, and building was up 17 percent, according to Dodge Data & Analytics.
"We expect 4,000 multifamily units to come on the market in 2016 and an additional 5,000 units in 2017," Coveny said.
Local Obstacles
Over the next few years, new construction for multifamily properties is expected to remain strong, with a steady supply of inventory coming onto the market to meet demand. However, Coveny warned that in a few years, production could drop drastically due to Chicago's Affordable Requirements Ordinance (ARO), which, according to the City's website, "requires residential developments that receive city financial assistance or involve city-owned land to provide a percentage of units at affordable price." The HBAGC president explained that it seems each year the city tacks on new requirements to the ordinance, making it difficult for builders to comply "and make it work financially."
"In the years since the Affordable Requirements Ordinance, there has only been one project approved," Coveny said. "There may be a significant drop off in multifamily building in four or five years because nothing has been approved."
Coveny describes the ordinance as one of the biggest problems facing multifamily builders, although it is hardly the biggest problem facing the industry. Labor also remains a major concern.
After watching an entire generation of workers retire as well as the exodus of laborers to the energy sector that followed the downturn, Coveny has lost confidence in a quick recovery.
National Association of Home Builders Senior Economist Michael Neal expressed confidence that some of the skilled labor that left construction for energy would return to the market. But not everyone is convinced those gains will reach Chicago (which does not have a significant energy market).
"I don't have a lot of hope that jobs returning from the energy sector will make a huge impact for construction employers," Eisenberg said.
Building a Future
Eisenberg's vision for the future calls for innovation, which he describes through possible ways builders might circumvent the challenges of today's new construction market.
"If prices remain so high on new homes, I suspect something will give and buyers will say, 'I can't afford this and I need something less expensive," he said. "We may see new building materials and smaller houses, maybe more density, no garages, homes made of corrugated metal; there are a lot of ways to bring down the cost of a home."
However, even amidst the gloom of stalled single-family production, higher prices and regulations that seem to curb more than encourage, researchers at MetroStudy are still projecting an improved year for the market. The group expects new construction in Chicago to grow by 3 to 4 percent by year's end.
"It may be the end of the affordable home, but I don't think it's because of what's happening now," Eisenberg said. "Builders are quick to respond to market signals. If they sniff out an opportunity to build quarter-million dollar homes as opposed to half-million dollar homes, I think they will."