The Persistent Threat of Low Inventory
In June, there were 44,585 homes listed across the nine-county Chicagoland area, a 6.1 percent decline from a year ago, according to the Illinois Association of Realtors. Even that statistic, though, obscures just how tight inventory currently is in many city and suburban markets. For instance, according to a Redfin analysis, the West Loop housing market has just a 0.2-month supply of listings, and Bucktown, Logan Square, Ravenswood, Roscoe Village and West Town are not far behind at 0.4-month. A "normal" inventory is a 6-months supply. Things are better in the suburban markets of Mount Prospect, Schaumburg, Niles and Buffalo Grove, but only marginally – inventory in those markets is just 3-, 3.1-, 3.4- and 3.6-months, respectively.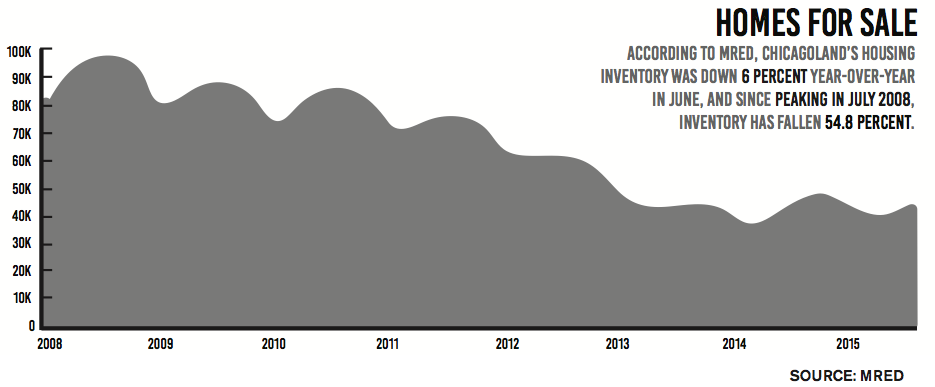 There are many reasons for Chicagoland's persistently low inventory. Negative equity concerns keep thousands of homes off the open market. Homeowners who refinanced at historically low rates in 2013 and 2014 are hesitant to sell and then buy at a higher rate. And in a classic "chicken-and-egg" problem, homeowners worry they will sell their home, only to struggle to find a property of comparable quality, given how low inventory is. All of those reasons feed into what is, for Christopher, a relatively easy selling environment for listing agents.
"It's pretty easy to sell a home right now," Christopher says. "It's a lot harder to price a property when there is quite a bit of inventory."
And buyers are certainly behaving in a more aggressive fashion than is typical, Emery explains.
"Buyers are making decisions faster than they did previously," Emery says. "Imagine a cereal aisle in the grocery with less cereal to choose from. You still want cereal but have less choices. The timeframe of decision-making on the parts of buyers has been sped up due to the low supply of inventory."
At the same time, low inventory markets do not grant sellers carte blanche on pricing, a fact Moy makes clear to her sellers.
"If a home has been on the market with no movement for 90 days, it tells us we must reduce the price," Moy says. "Sometimes, despite low inventory, buyers will still hesitate because the price is too high. The well-priced, higher-quality listings get sold quickly with multiple offers. Homes that need a lot of updates and/or are overpriced are sitting in my market right now."