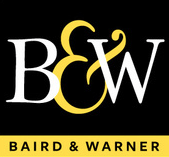 Baird & Warner launched a new website, specifically designed with the user in mind. The new site features high-tech improvements, including faster and more refined search results, simpler navigation and more detailed neighborhood and home descriptions. It was created based on the changing habits of buyers and sellers in today's market, resulting in a fresh and innovative take on online real estate.
In 1996 the company created its first website and has continued to grow with the changing technological advancements over the last two decades. Baird & Warner is keen on keeping up with current trends in order to ensure that users have the fastest and most knowledgeable information. BaridWarner.com 8.0 was designed based on users' online habits. After researching those habits and gathering data and statistics from leading industry sources, Baird & Warner put together a leading real estate website with the most advanced and up-to-date information.
Baird & Warner found that according to the National Association of Realtors 2013 Profile of Home Buyers and Sellers, nine out of 10 people use the Internet during their home search. Plus, more than half of homebuyers start their searches online. Utilizing this key information was important for the design of the website, which is focused on providing a stress-free online experience to homebuyers, sellers and agents.
In addition to the improved functions, StreetAdvisor has been meshed into the website to allow agents to give their expertise. Exclusive photography and videos are uploaded in the neighborhood section, where users can explore potential places to look for homes. Easier access to listings, luxury properties and open houses have been made available as well, including the option to sign up for email alerts when new listings come on the market in a specific area.
Baird & Warner was founded in 1855 and serves as the largest independent brokerage in Illinois with more than 20 offices in Chicago and surrounding suburbs. It is still the largest independent brokerage in the nation. With its eye for expansion and evolution both online and off, and its determination to provide the utmost level of customer service, Baird & Warner will continue to be a pioneer in the real estate industry.