Brokerages might have the luxury of marketing professionals to aid with their campaigns, but building a brand is still no easy feat. That is even more true for individuals who want to move away from their company's brand campaign and stand out from their peers with their own campaign. When is a company campaign enough? When should an agent invest on their own?
"Ultimately, the brand is defined by the experience a customer has with a company," says Bob Armour, chief marketing officer of Guaranteed Rate. "We can do as much advertising or broad-based stuff as we want, but if the product doesn't match up with what the advertising says, it's a problem."
The concepts of brand campaigns need to be clear about the product/service, as well as have a catchy tagline that makes sense. Guaranteed Rate recently launched a new brand campaign with Ty Pennington as the spokesperson. A few different taglines are used, including "Transforming the Home Purchase Experience," but through Pennington, the company hopes to emphasize low rates and transparency.
Baird & Warner's campaigns tend to have a few different taglines. Last year, the company included "Find Your Balance" and "Be Curious." This year, the taglines are "Feel the Momentum," accompanied with a photo of a Metra train; "Take Control of Your Future," an ad that has a photo of people sailing on Lake Michigan; and "Fiercely Independent," an ad with a photo of Buckingham Fountain.
"Those campaigns are initiatives that come not only out of the corporate expertise, but also the feet on the ground," says Peter Papakyriacou, the vice president of marketing at Baird & Warner, adding that the marketing team works in stride with Jennifer Alter Warden, the president of sales, as well as two 12-member councils composed of agents. "It's really important for us that what we put out there is really for the benefit not only of the consumer, but for our agents, because if they're successful, then the company's successful."
The return on investment is much easier to track through digital advertising, as opposed to any offline campaigns. Still, print advertising is very much alive. Andrew Hayes, vice president of public relations and communications at Fifth Third Bank, says the company's "The Curious Bank" campaign gets the most ROI from placements in Chicago Agent, Crain's Chicago Business and Chicago's daily and weekly newspapers, such as the Chicago Tribune.
The growth of an agent's or lender's business might not be tied to the company's marketing, but rather from the agent's or lender's own campaigns.
Erin Mandel, a broker associate with @properties, does her own marketing and branding, despite @properties' branding campaigns. Her print ads are different each time, but all have a theme of thanking her clients and the people she works with, including her partners, lender and contractors. One client she worked with in 2008, for example, has referred her to 10 other clients since. With a tagline of "The Power of a Referral," her ads not only show how she delivers great results, but also how she speaks to consumers on a personal level.
She pays for everything on her own. Right now, her campaign involves one ad in CS every quarter, and she has no intention to advertise elsewhere; the demographic of clientele she attracts is in line with the readers of CS – upscale consumers. Deciding on a concept and tagline for an individual brand campaign is important, but as Amir Syed, a mortgage banker with PERL Mortgage, explains, the medium needs to be seen by your target audience, as well.
"I think, 'what type of people are we?' and, 'let's not pretend to be someone were not,'" Syed says about the brand campaign he does with four other PERL mortgage bankers. "We are young, progressive, creative and relationship-oriented, so let's have that manifest through our marketing. We don't want to come off as stuffy and talking about loans, because it's so boring."
Syed reserves only 10 percent of his budget for print advertising, and devotes more attention to his out-of-the-box mediums, including: his own YouTube channel; a spoofed Dos Equis' "The Most Interesting Man in the World" photo that promotes PERL Mortgage (which he promotes on social media); the promotion of networking gatherings he hosts; and even his group's logo on ping-pong balls.
Likewise, Robert John Anderson, a Realtor with Baird & Warner who lives in Bucktown, markets his tagline, "Head and Shoulders Above" (a play on his height – 6'4") on park benches, buses and billboards in as many spots in the area as he can. Anderson sponsors neighborhood events, too, such as garden walks and Movies in the Parks. All those efforts are included in the 10 percent of Anderson's budget that he puts toward supporting his neighborhood, as well as branding himself, making him a recognizable figure within Bucktown's community – which is his goal with his campaign.
Greg Nagel, managing broker of Ask Nagel Realty, says remaining prominent in one's own neighborhood is especially important. He focuses on advertising as much as possible in Wicker Park, Bucktown and West Town, where his business is focused.         
"Branding is more effective if you're farming a particular area," Nagel says.
Ultimately, that's the mark of success of any campaign, whether for a brokerage or individual agent.
"Who doesn't like to set their own course?" Mandel asks. "If you surround yourself with great people, you'll deliver great results, and that's what my ads show. They celebrate the people I work with – my assistant, lenders, inspectors, contractors and clients. They celebrate the people around me."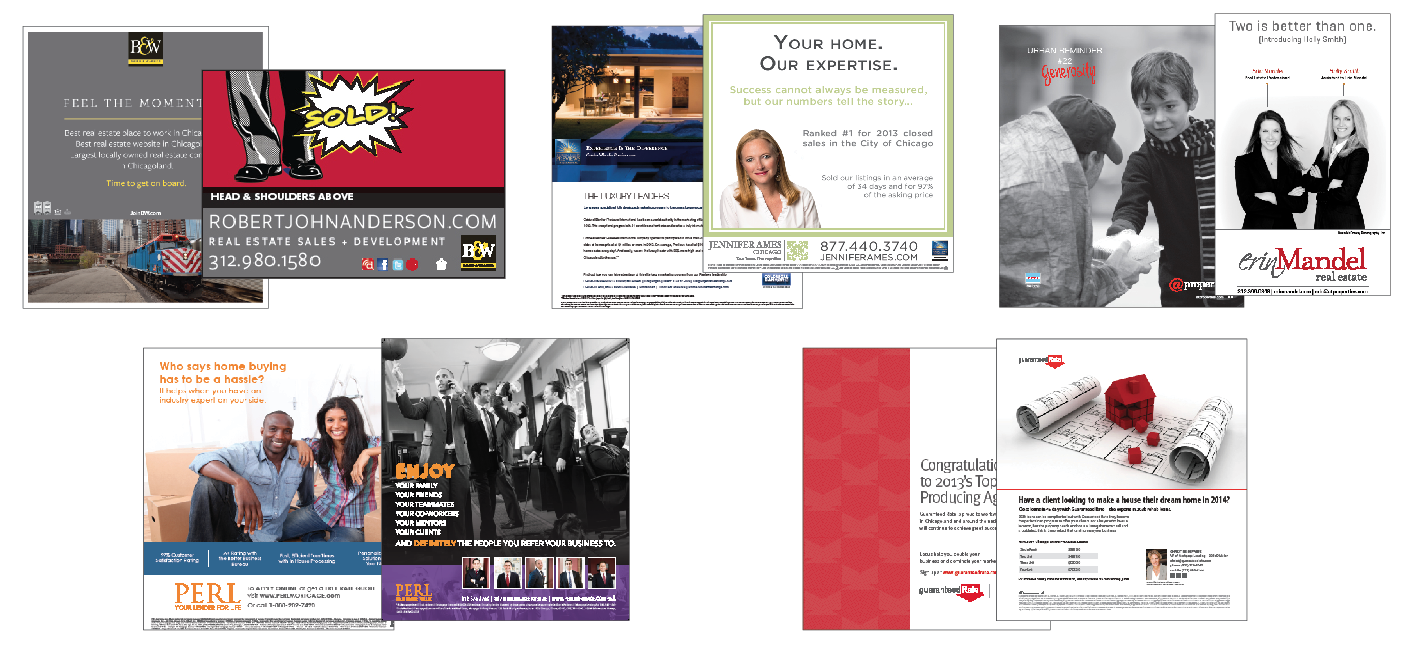 Corporate ads and individual ads for people within the same company, clockwise from left: Baird & Warner and Robert John Anderson; Coldwell Banker and Jennifer Ames; @properties and Erin Mandel; Guaranteed Rate and Christine DePaepe; and PERL Mortgage and Sharbel Shamoon, hani ali, daniel Chookaszian.  Justin Lopatin and Amir Syed.