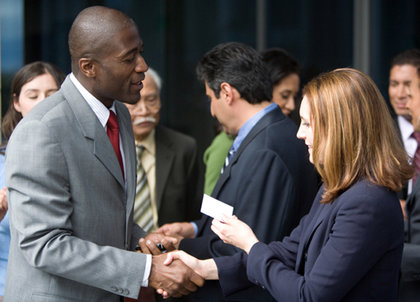 Have you ever gone to a networking event that seemed like it was going to be great, but then you've left feeling that you didn't find what you were looking for at all there? Business professionals from all kinds of backgrounds often spend time networking inefficiently. Going to events with just a few of these tips in mind will help ensure that you make the most out of your two- to three-hour networking events.
1. Ask first, talk second
Always ask, in every conversation, what the other person is looking for first. Not only does this make others warm up to you, they will also be more likely to connect with you on a personal and business level if you seem interested in helping them achieve their dreams, goals and desires.
2. Remember to ask the magic question
I remember a few conversations I've been in where I first meet someone and we have a conversation that is filled with small talk. No one is asking, "What are you looking for? What do you need from me? What can I do to help you get it?" Weeks later, I run across people I've met at prior networking events and we do get into that kind of conversation.
The interesting thing is that there are people we meet all the time that are standing right in front of us that have the keys to what we need to get the next job, or further our companies and projects; but sometimes we forget to ask the right question. Without remembering to ask direct questions about what you need and what they need, a gold mine of a great business relationship that had been in front of you the whole time could be walking away from you. Don't let it get away!
3. Become a resource
Always mention what makes you different and how you're valuable to others. Sometimes, building our dreams isn't always straightforward. I remember lots of business opportunities for me that have come from being introduced to a friend of mine that happened to be the perfect resource. So when I'm networking,
I often tell others that I'm a connector-type personality, and that I can connect them to any kind of specialist they are looking for – not everyone can do that.
Later when I go home, I often get calls from people I met at the event earlier to assist them in some way, and from then on, I've proven my value to them; in turn, it's more likely that I'm able to see, in a more detailed way, to what extent they have an ability to assist me in achieving my business goals.
4. Have a system in place that works for you
Most networking events are very similar. There are always long lines to check in. You always go get a name tag. Most events have a bartender and food, etc. Since many aspects of networking events stay the same, it's more efficient if you plan out who you want to meet ahead of time (if an online RSVP list is available); plan out just a few questions that you will ask everyone and then make sure you ask those questions.
It helps to be systematic when you're networking like this, since you have a limited time to network. Think about all kinds of ways you can get the most out of your short time there. Just one hour of pre-planning may yield up to five times greater networking results.
5. Make sure you're prepared and have backups
I often come to networking events with an extra ballpoint pen for those random times people want to write something and their phone has died. I also carry an ample amount of business cards and extra phone batteries (in case my phone dies). I bring a felt-tipped marker for those times they want to write on the back of my glossy business cards.
Being prepared and always having two backups for most situations will help ensure you can keep networking without interruption. I've seen people run out of business cards and run back to their car to get more, but they risk missing out on networking time at the event. Always bring backups for your most common event-stopper situations, and you'll have the most effective networking event possible.
---
Matt Winters is the owner of Austin Visuals 3D Animation Studio , a Full-Service 2D & 3D animation studio, advertising agency and video production studio. As one of Austin's movers and shakers, he also founded Speed Friending Events, which produces networking mixers and social events in more than 14 cities nationally. Matthew is dedicated to providing solutions to social and technology related issues in the industry.