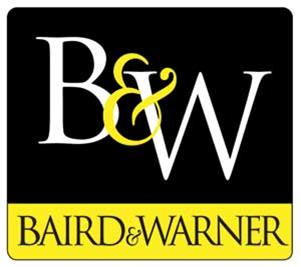 Baird & Warner is Chicagoland's largest locally owned independent residential real estate services company. Established in 1855, the Baird & Warner brand has been synonymous with experience, innovation and integrity for more than 150 years.
Steve Baird, the firm's fifth-generation owner, has been consistently recognized among the industry's most influential leaders. In 2012, Baird & Warner was named the third best place to work in Chicago, receiving a Top Workplace Award from the Chicago Tribune, and in 2013, it was named the 43rd best place to work in the nation.
With more than 1,500 sales professionals and comprehensive mortgage financing and title insurance services, Baird & Warner consistently ranks among the nation's top real estate firms.
"BairdWarner.com was built with our broker associates and their clients in mind, creating an unparalleled online presence and experience. We've been pioneers in cyberspace since we created one of the first real estate websites back in 1996, and we continue to evolve as new technology develops. Today, there are many quality and innovative real estate websites available, making this award truly an honor."
-Jennifer Alter Warden, President of residential sales, Baird & Warner
Nominees: ColdwellBankerOnline.com; DreamTown.com
THE WINNERS
• Rookie of the Year, City and Suburbs •
• Developer of the Year, City and Suburbs •
• Managing Broker of the Year, City and Suburbs •
• Industry MVP, City and Suburbs •