In his latest featured blog, Mitch Levinson of Marketing RELEVANCE writes about how agents can use Zillow Digs to promote their listings.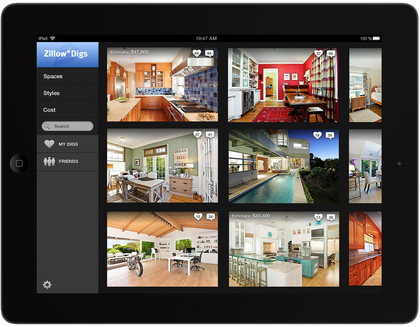 "Digs," a well-known slang term referring to someone's home, has appropriately been adopted by Zillow, a leading source for online home listings, as the name of their newest offering. Zillow Digs is a picture-based forum geared towards home remodeling.
While remodeling is generally a term associated with resale properties, new home sales agents and new homebuilders can still benefit from Digs. Once a user has signed up, much like Pinterest and Houzz, they are able to save and share photos of their favorite home design ideas, and like Houzz, a majority of the photos they are looking at come from remodelers and homebuilders themselves who can also provide cost estimates for recreating the very same room.
So, by posting photos of your homes, you just may inspire someone who was convinced that they were going to remodel that buying a brand new home, from your company or the builder you represent of course, would actually better suit their lifestyle.
You can also use the site as a curation place for potential buyers. Ask them to save images of their favorite spaces that either you've posted or even that others have posted, and then implement these design elements into the home that you're going to build for them.
Now that you know why you should be on Zillow Digs, here's how you can set up your business account:
Sign up for a new Zillow account, or sign into your existing one. Since you are a professional, make sure you check the appropriate boxes and completely fill out your profile information.
Click on the Digs tab.
The top left of the screen will display several options, including: Browse, Friends and My Digs. Click on My Digs to add your photo.
The right hand side of your screen will display options to create new boards, edit boards or send an email.
Instead of beginning to load your pictures right away, come up with an action plan. Decide if you want to organize your boards by a home or community, or by various space types within the home.
When you're ready, click create new board and fill out all of the information. This will include a title, neighborhood or address and any additional information.
Add photos to the board from your website or computer.
Each image will have the option to add more information including a caption, space category, style of the space and approximate cost.
To revisit an existing board, simply click on the board you want to edit and click the edit button.
Once you're done loading your images, be sure explore what others have uploaded and find users to follow or interact with.
Using Zillow Digs unlocks a whole new potential customer base that you may not have been exposed to before, so be sure to "dig" into this social media site as part of your marketing strategy.
---
Mitch Levinson, MIRM, CAPS, CGP, CSP is managing partner with Marketing RELEVANCE and the author of "Internet Marketing: The Key to New Home Sales" published by BuilderBooks. He is an Internet marketing expert with expertise in search engine optimization, website development, email marketing, social media and CRM consulting services. If you're looking to improve your online presence through website development or mobile website design, contact Marketing RELEVANCE or connect with Mitch Levinson on Google+.