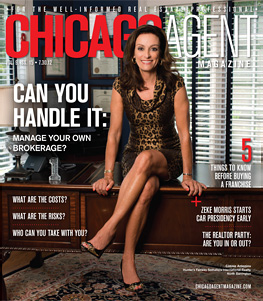 By Amber Statler-Matthews
There comes a point in every agent's life when they look at their managing broker or team leader and think to themselves, "I can do that."
But can you, really? What does it take to start your own brokerage, whether it is a purchased franchise or you are starting from the ground up with a brand new company? What is there to think about, besides recruiting other agents, financials and overhead, office space, promoting your new brand, making sure your new brokerage is putting forth the best customer service and encouraging the growth of top producing agents?
According to Entrepreneur magazine, franchises are more likely to succeed than independent start-ups – there is simply more risk involved in founding something from the ground up, no matter how much real estate experience or how many contacts you have.
If risky business is not something you'd like to get involved in, starting your own team within your existing brokerage is an option for managing agents without dealing with heavy and constant recruiting and overhead costs. When you reach the point where you want to move up in your career but are unsure how, which path will you choose?
Starting a brokerage from scratch
One thing is certain – no matter how experienced you are in the industry, running your own company is no easy feat. Tamara O'Connor had been a top agent with RE/MAX Horizon for years, but as the years went on, she thought she might need a change. She finally decided she was going to leave RE/MAX, but not for another brokerage. She made the decision to branch out on her own. In 2004, O'Connor and her daughter Amanda founded Premier Living Properties in South Elgin, specializing in the upper-end market.
"I always thought that running a company would be similar to the team I ran when I was at RE/MAX," O'Connor says. "I was so very wrong. It is 10,000 times more work!"
O'Connor admits one of the biggest challenges in starting her company was underestimating the money and time needed to gain market share. Even though she was an established top agent with RE/MAX Horizon and among the top 10 in the entire Northern Illinois RE/MAX Region, she was viewed as someone who needed to prove herself to the public, her peers, banks and insurance companies.
"My team at RE/MAX was doing close to 200 deals each year," she says. "When I started my own company, it was like re-establishing credibility all over again." O'Connor was busy actively promoting her new company as experts in the upper-priced market when, within two years of opening Premier Living Properties, the recession hit. In addition to recruiting top agents, generating her own leads and clients and proving her expertise, she ended up having to pay $400,000 of her own money so her company could stay in business. O'Connor was forced to slow down the building of the company and hiring of independent agents to concentrate on team sales to get through it.
Most of the $400,000 was spent on advertising in large consumer print mediums, such as the Homes & Land Magazine, Chicago magazine, Unique Homes Magazine, Robb Report, The Daily Herald, The Courier-News, The Kane County Chronicle and the Wall Street Journal, and technology to improve the company's presence on the Internet. O'Connor and her daughter invested heavily in a high-powered customized customer relation management software platform. It works internally with individual agent websites in the company, as well as with the IDX system, to make a one-step platform for managing the transaction and the client relationship.
They believe that this investment eventually paid off, and it would seem so – in 2006, Premier Living Properties was invited to join the largest independent network of top real estate companies, the Leading Real Estate Companies of the World. Finally, after years of hard work and thousands of dollars of her own money invested in her company, she had established her brokerage as a premiere real estate firm, chosen for its expertise to make the Leading Real Estate Companies of the World's list, and O'Connor believes this affiliation has allowed her business of just 12 agents to compete with the "big boys" like RE/MAX and Coldwell Banker.
"This affiliation gave our company even more tools for agent training and growth with online classes for our agents and the ability to take continuing education courses," O'Connor says. "Companies have to meet very stringent criteria to enter this prestigious network and most companies have to be 10 years old minimum for consideration. Our local market share was so strong, we got invited in our second year."
Freedom From Layered Management
As an independent brokerage, O'Connor enjoys making decisions that are best for the company without having to deal with the bureaucracy of a franchise, as she used to deal with in her role as team leader with RE/MAX. In a fast-paced industry that is always evolving, agents have to make and adapt to changes quickly, and owning a brokerage, according to O'Connor, allows her agents to do just that.
"I have the freedom to adjust as necessary without waiting for permission," she says.  "We are able to adapt quicker and move faster when changes are needed in the way we approach marketing and prospecting. We don't have to wait to get something approved from corporate – we can literally put new ideas in place immediately. This has allowed us the freedom to stand out and deliver results faster to our clients."
When Premier Living Properties opened in 2004, the company's sales volume was just over $3 million. In 2012, the company expects to reach $35 million in sales, and O'Connor's goal is to reach $100 million in 2014.
"There have been so many offices that closed in the last few years, and we weathered the storm," O'Connor says. "We are very proud that as a newer company of only eight years, in one of the worst markets Illinois has ever seen, we have been in the top 10 offices in the area for production each and every year. Now, we really are positioned as a company of true strength and perseverance to build on and grow."
Buying a franchise
Most agents who opt to branch out on their own opt to buy a franchise to operate because the stats are in their favor: they are representing a well-known brand, have a built-in support system and work with a proven formula, and therefore, the chances of success are higher. In addition, agents who love working for their brokerage but would like to run the show in an office, not team, setting, can opt to purchase a franchise of their brokerage if that's an option, like it is with RE/MAX and Century 21.
Husband and wife team Tony and Cindy Banks purchased a RE/MAX Cornerstone franchise in West Chicago earlier this year. "It was time to take it to the next level," Cindy says, who had been an agent with RE/MAX for 26 years.
Both Cindy and Tony were already working for RE/MAX when they decided to purchase a busy brokerage within the RE/MAX family. "The economy provided a unique opportunity," Tony says, who is the managing broker of RE/MAX Cornerstone.
He admits there is a lot of commitment and responsibility to owning a franchise. Working with an already established powerhouse brand like RE/MAX was a major benefit. "RE/MAX is brand number one in this area," he says. "A consumer may call brands number one, two and maybe even three. But if you're brand 59, they're probably not going to call you."
When owning a large company franchise, there are rules to follow as well as production and agent requirements to meet. Plus, you can expect to pay a price for name recognition, immediate structure, training and support. Up-front fees can be significant, and in most cases, franchise owners demand an ongoing percentage of revenue, and while having a multi-billion dollar brand like RE/MAX can help, there's no guarantee of attracting clients, because that has much to do with the condition of the market and your recruiting/marketing methods.
Cindy is RE/MAX Cornerstone's team leader, who talks to buyers and sellers and manages lead sources. She has sold more than $500 million in real estate in her years as an agent and has won the prestigious RE/MAX Lifetime Achievement Award. Even with her achievements and successes in real estate, doing the prep work before taking the plunge and buying the franchise was necessary for their new brokerage to be successful.
First, she says, know the market. "Invest in market studies if it's a new market," she says. "Understand the demographics and sales history of the area." Second, have a marketing and management team in place.  Third, set realistic goals.
When setting up a franchise office, there are lease contracts to consider and licensing requirements. Cindy advises agents to take at least 90 days to have everything in place. The franchise fee and renewal fees should also be part of your financial planning. While franchise costs vary from brand to brand (see our chart), Jim Merrion, regional director of RE/MAX Northern Illinois, says RE/MAX uses an algorithm to determine what costs an agent should budget for. The algorithm takes into account certain variables, including the number of possible transactions in the area and market share, and from that, comes up with an up-front fee: to buy a franchise in a big market, like Chicago, agents pay $25,000 up front; for smaller outlying markets, $13,500 and for even smaller markets, $5,000. Monthly fees for a franchise in all types of markets are 5 percent of the franchise's gross commission.
In addition, the National Association of Realtors suggests becoming a member of your local board of Realtors as well as the local chamber of commerce. "You have to be well-capitalized and do a lot yourself. Sometimes day-to-day operations can be difficult and overwhelming," Tony adds.
But for the most part, the Banks are optimistic about the future of the real estate industry. They believe the timing is right for growth and the market is poised for a turnaround. And that's what drove them to purchase their own franchise.
According to the Banks, since starting their franchise, they have focused on infrastructure and technology rather than recruiting. Organizational changes had to be made, workflow had to be improved dramatically and they focused on efficiency, because "there's a lot of inefficiency in real estate," Tony explains.
The couple believes the time and money spent to add technologically advanced systems to the office have been worth it, and say their unique house-hunter service technology gives them a competitive edge in the market.
But the Banks admit their biggest challenge has been in terms of building a team. "Independent contractors often do what they want to do. You can't control the situation that well," Tony says.
Building a Team Within Your Brokerage
When Tricia Fox decided to build her own team at Keller Williams in Chicago in 2003, she turned to family. She started Tricia Fox Group with her son and daughter's cousin-in law. Earlier this year, she moved her group, now comprised of 20 agents, to @properties.
Fox is a consistent top producer, and ranks in the top one-half percentile of Realtors nationwide. She earned the awards Top Associate in the Midwest and Top Salesperson in the Company during her tenure with Keller Williams Gold Coast. Her niche in luxury has only helped her brand, and she specializes in the high-end homes in the Gold Coast, Streeterville and Millennium Park areas of the city.
With annual sales volume so high, why wouldn't Fox want to open her own brokerage? Why would she want to keep paying her brokerage fees when she could be pocketing those fees herself?
Several reasons, Fox says. For starters, franchises have never interested her because of the unbending rules of a large corporate structure and the layers of levels of responsibility. "Big company franchises assume signage is their top marketing tool," Fox explains. "But that's impossible for condos, which is 90 percent of our market. It is critical for our marketing to target locally and specifically."
Fox feels the same about owning her own brokerage. "In today's market, there is a requirement to offer marketing, support and technical services, discounted advertising bought in bulk and international and national relocation services," Fox says. "It is simply difficult, if not impossible, to compete in this environment."
@properties, for example, employs a staff of 12 in marketing, 10 in IT and another 20 people in administrative support. Working with a group in an existing brokerage allows Fox to focus on a neighborhood oriented approach to selling. As long as the support works for you, having support for your team from your brokerage is a great benefit.
"My group has the advantage of cooperative additional marketing and back-up, shared additional services and the success of the group as a whole in terms of competing with the success numbers as a team, yet they do not have to support the entire overhead," Fox says.
Operating as a Team
Working with a team means Fox is still a producing agent, but she also offers support, coaching and coordinated marketing to her agents. "Think of me as a business partner, coach and creative agent and back-up," Fox says. "If agents want or need additional help, I will meet with their clients or strategize with them."
To lead a team, Fox believes you must have certain qualities. Before leading, you need to be able to follow, and you need to have success to share so that the whole becomes more than the sum of its parts – if an agent is primarily interested in maximizing his or her own earnings, then hiring one or two assistants might be a better fit.
Fox admits she likes mentoring, training and helping her agents – a good fit for someone looking to build a team. "I fully expect some of my partners to out-sell me, and I look forward to watching them succeed," she says. "I am at the stage in my career where I enjoy seeing their success and growth.  I could probably maximize my earning potential more as an individual agent. But this is not my first priority."
The key to Fox's group's success, she says, has been its steadied business approach to the luxury market. In addition, Fox hires agents who are good at not only selling luxury, but also have experience selling to international buyers.
"We also have a significant international orientation. Within my group, we speak German, French, Spanish, Russian, Serbian and Mandarin. That's very helpful in today's luxury marketplace," she says.
Fox has heard of some teams that have had 200 percent turnover due to commission splits, among other details, but perhaps another reason for her team's success under her management is she has always worked under the philosophy that if the deal wasn't good enough for both sides, then it does not have lasting power. It has to be, in her words, a win-win. "Our agents have a better arrangement than they would on their own, but the exact commission is under a do not disclose agreement."
Fox's group also shares the cost of bulk rate advertising as well as wine and cheese events, luxury tours by trolley and information seminars. Routinely, the team averages $70 million in sales. That makes them very competitive as a group. "The group success allows our individual agents the recognition they need to compete in the luxury market," Fox says.
Making a Decision
Whether agents choose to start a brokerage, a franchise or build a team at an existing brokerage, running a business requires a significant amount of research, preparation and funds to get started. And as the market continues to rebound, now may be the perfect time to make a move. Do your homework, know the market, know how much every option will cost you – from a brokerage within a team to all franchise costs to if you start your own company – and align yourself with a strong and talented team. As O'Connor, Fox and the Banks discovered, moving out with support, knowledge of how to run a business and a can-do attitude can be the keys to success.

Tamara O'Connor
Broker/Owner
Premier Living Properties
847.888.4991
[email protected]

Cindy and Tony Banks
Team Leader, Managing Broker
RE/MAX Cornerstone
630.762.2100
[email protected], [email protected]

Tricia Fox
Team Leader, Tricia Fox Group
@properties
312.446.7373
[email protected]