by Peter Ricci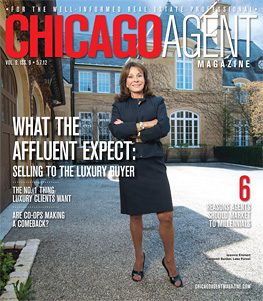 When Lisa Moze began selling real estate in Hinsdale in 1993, she was presented with a unique phenomenon in the town's luxury market – the tear-down. A land-locked community, Hinsdale lots were becoming an increasingly valuable commodity, as buyers flocked to the area for the suburb's thriving downtown, superlative school system and its general proximity to both downtown Chicago and Midway International Airport.
As the '90s progressed, Moze, an agent with Brush Hill Realtors, not only found buyers who would pay premium prices for properties they intended to tear down, but existing single-family properties that were being specifically marketed as tear-down-ready. And the irony, as Moze explained it, was that the tear-down zeal that swept through Hinsdale was a boon for the community, pushing land prices higher and establishing the modern luxury market where Moze works today.
Moze's story, in more ways than one, is unique to the Hinsdale area, and it represents the genuine relativity under which luxury real estate operates. How an agent adapts to the traits and features of the local market where he or she works will determine his or her level of success in that market, and those characteristics are exacerbated to a significant degree in luxury real estate; rarely do consumers encounter a term as wholly subjective as "luxury." What is "luxury" based on? Is luxury based on price? The quality of craftsmanship? The lot sizes? The finishes and trim work?
The honest answer is a nuanced yes to all definitions. Though "luxury" does encompass all of those features, it also has plenty of room for the more ambiguous touches, such as the home's architectural style, the creativity of its layout and the overall uniqueness and feel of the property. The luxury agents interviewed for this story, Moze included, embrace that ambiguity, and use the luxury market's blank canvas to paint detailed portraits that show their luxury clients why a certain property, and the lifestyle that it provides, is right for them; and by championing that sense of originality, they are experiencing their most successful period yet in post-bubble real estate.