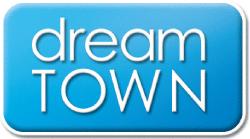 Sharing is one of the main philosophies at Dream Town in Lincoln Square, an office built upon the concepts of cohesion, transparency and interaction.
"The office philosophy is also the whole Dream Town philosophy – we are one," says Barbara O'Connor, the office's managing broker. "The philosophy is not to let anyone start from 'square one.'"
To accomplish that, O'Connor operates her office in an open, egalitarian fashion. Every desk is fitted with dual screen monitors and Dream Town's unique, cutting-edge technology, which emphasizes accessibility and simplicity. The office hosts regular round-tables to provide all of Dream Town's agents with a wealth of pertinent information. Agents' viewpoints are constantly incorporated into the company's operating process. And social interaction is encouraged, too – every Friday, the office hosts complimentary pizza parties, and copious amounts of the specially brewed Dream Town Blend Coffee are always available to agents.
Before becoming Dream Town's managing broker, O'Connor worked for 20 years as an agent, and her organizational style is focused on sharing all the experience and empathy those years taught her.
"I truly understand what the real estate agents are going through day to day," O'Connor says. "I have a wealth of knowledge as I have sold a lot of real estate … my relationships with lenders, developers (and) attorneys are huge. I have aligned myself throughout my career with people who can get the job done."
But O'Connor doesn't do it alone. In addition to the administrative and marketing team that assists agents with brochures, eblasts and Craigslist advertisements, she works alongside eight office managers from different Dream Town offices, all of whom bring a different expertise to their work. So whatever field agents may need assistance in – and regardless of what office they may be working from – there is always an office manager available with unique experience to help.
And while assisting her agents, O'Connor is careful to keep an attentive eye on the trends, technologies and innovations that are propelling the real estate market, so that Dream Town continues to not merely stay with the competition, but lead the competition.
"One needs to move with the market," O'Connor says. "The biggest drawback I see with people in general is they get stuck in the moment or the past and do not move on. Every day is a new day. Embrace it and work with it, and accept that things will change constantly. Change, if looked at positively, is growth."
Years as managing broker: One
Years in real estate: 21
Number of full-time agents: 60+
Awards and honors: "We have many top producers. We want to encourage all people to reach their goals. To me, a top producer is one that sets goals and reaches them for themselves."