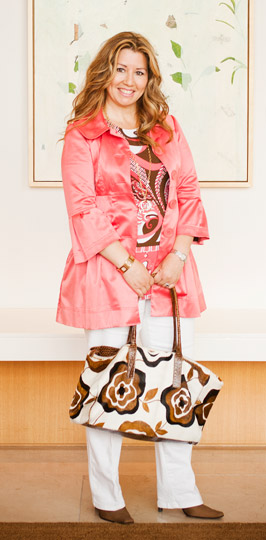 Number of years in real estate: 10-and-a-half.
Describe your look: I don't really commit to one specific style. I am just as happy wearing a business suit as I am wearing jeans, a cute shirt and a jacket. I always go for a professional look, but adapt to the situation. I have many classic pieces as well as trendy. At the end of the day, I would describe my look as "eclectic" and a great blend of style.
What do you consider a fashion don't? Chipped nail polish and wearing something that makes you feel uncomfortable for the sake of fashion.
What is your favorite piece of clothing and why? Hands down, it is my white Anne Klein suit. In my opinion, a white suit makes a statement. It is bold yet elegant, classic yet trendy, dressy yet casual. It can be anything I choose depending on how it is accessorized.
What do you consider a must-have accessory? A high-quality bag.
What is a fashion crime you have committed in the past? I was a preteen in the mid '80s…need I say more?
What are your favorite places to shop? Always on a quest for quality at a great price, I love Macy's, Nordstrom, Nordstrom Rack, Marshalls and DSW. I also love small boutiques – they are perfect places to find unique pieces.
What, besides your wardrobe, completes your look? My smile! It goes with everything and is never out of style.
Jacket-BCX
Shirt-INC
Pants-Michael Kors
Shoes-Circa Joan&David
Bag-Maurizio Taiuti (Italy)
Necklace-Anne Klein
Watch-Raymond Weil
THANKS TO HOTEL INTERCONTINENTAL O'HARE FOR THE LOCATION OF THE PHOTO SHOOT