26 Percent of Agents Dissatisfied with Services with Split
In 2010, 26 percent of agents are dissatisfied with the services they get with their split, compared to 19 percent of dissatisfied agents the year before. Why the dissatisfaction? The average split for these agents is 6 percent lower than the norm. In addition, 45 percent of agents with a 50 or 60 percent split are dissatisfied, and 20 percent with a 70 percent and above split are dissatisfied. However, unlike 2009, when no agents with a 100 percent split said they were dissatisfied, 19 percent of agents in 2010 with 100 percent splits expressed dissatisfaction.
Though there is dissatisfaction with splits, dissatisfaction with offices is down; 10 percent of agents plan to change offices, as opposed to 20 percent in 2009. However, 27 percent of dissatisfied agents plan to change brokerages, up from 20 percent from 2009. It appears that in 2009, agents who intended to change offices weren't necessarily dissatisfied, but looking for alternatives and new opportunities given the market turmoil. The results from 2010 shows agents who are looking to move are agents who are dissatisfied.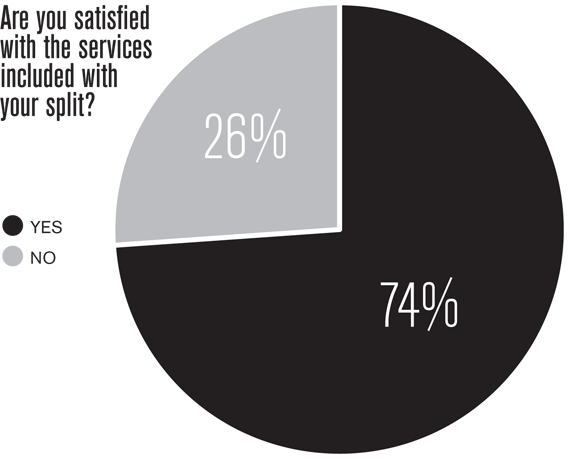 Compare with results from 2010