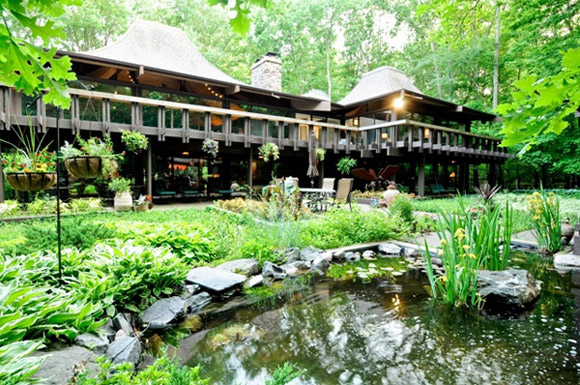 Dennis Stevens, one of the youngest apprentices of Frank Lloyd Wright, designed and built several homes during his career. One of those homes in Riverwoods, 7 Timberline Lane, is on the market.

By Stephanie Sims
Chicago might be known for its architecture, but one of the architecture greats came from its suburbs: Frank Lloyd Wright. The architect famous for being aesthetically different and working under his own philosophy inspired countless architecture students. Year after year hundreds of students and graduates, ranging in age, applied to be one of Wright's apprentices. Dennis Stevens, one of Wright's youngest apprentices, accidentally found himself in the program at the age of 17.
"I remember walking up the steps to his office. I got halfway there but had to stop because I got goosebumps," Stevens says.
Wright was so impressed with Stevens – who had just graduated high school and came to see Wright for advice about becoming an architect – that he offered him an apprentice position on the spot. But an apprenticeship for Frank Lloyd Wright was no typical architectural apprenticeship, Stevens said. About 30 to 40 apprentices lived with Wright's family in his home – fall and winter months were spent in Scottsdale, Ariz., and the rest of the time they lived in Wisconsin – and everyone was taught to be self-sufficient.
"I used to wake him up and build a fire in his fireplace for him," he says. "There weren't any books, and it wasn't a school in that sense, but a complete way of life. We grew our own food, milked our own cows, gathered eggs from our own chickens. We were to be completely self-sufficient."
Although he says it was an exciting learning experience, Stevens didn't draw any projects for the first two years of his five-year apprenticeship. Wright was adamant that apprentices knew the trade inside and out before they sketched any projects; they had to learn brick masonry, carpentry and plumbing before ever sketching a home. "While learning the trades, the first drawing jobs might be labeling drawings, then labeling the elevation," Stevens said. "Senior apprentices oversaw the work of apprentices, too, but Mr. Wright would sit down and go over what you did, too. There was no set schedule at this 'school.' There was nothing formal about what he did and how he taught his craft."
One of the homes Stevens designed and built after completing his apprenticeship, 7 Timberline Lane in Riverwoods, is currently on the market. Built in 1980, the home is made of stone, cedar and glass on land adjacent to Ryerson Wildlife Preserve and the Des Plaines River. The client wanted to get away from the pressures from work and have a "haven" for a home, Stevens said, so he designed it with as much of the peaceful outside as he could incorporate.
He managed to incorporate quite a bit of the outdoors within the interior and overall form of the home – entering the home requires walking up one story (built this way because of the water level of the Des Plaines River) on meandering steps through natural materials, leading to the great room, which is Stevens' favorite part of this home. The great room is 39 by 39 feet with an eight-foot skylight on the ceiling.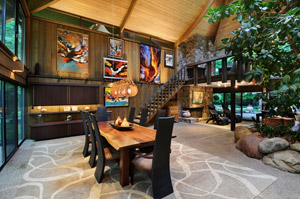 "People enter the great room on a balcony from above, so there's one story above of natural earth and rock," Stevens said. "It's just like walking in a garden to get to the great room; the flowers inside are all still growing. The kitchen, dining and living area are isolated by skylights, and there are also large glass walls facing the forest preserve where you can see everything outside."
The house has won several Gold Key Awards because of its form and function – in fact, its roof beam structure is patented, and it is the only double-story roof of this kind built by Stevens. Designing buildings with form and function in mind, or building "green," is something Wright taught all his apprentices, Stevens says, adding this is an architectural trend he's glad to see picking up steam.
"In general, I think architects are becoming more aware of the materials they use to build and how they're putting things together," he says. "They're making things environmentally safe. Mr. Wright did this since 1898. He used materials to make a house that functioned with the climate, and called it 'organic architecture.' It's a pleasure to see this taking off and becoming a functional architectural trend."
Stevens still designs and builds homes (he just completed Twilight, a home composed of a series of octagons "nestled together," on an eight-acre mountainside plot in Boise, Idaho), and has no intention of retiring anytime soon – he will be using his lessons learned from Wright as long as he can.
"I spent too much time with Mr. Wright – I have a quote from him for everything – but when he was asked what his greatest house was, he'd say, 'the next one,'" Stevens said. "I'm 80 years old and my son and I just finished a house. I'm too young to retire!"